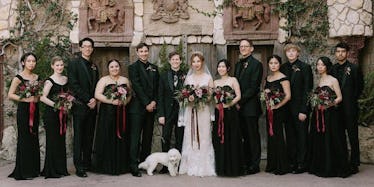 This Magical Harry Potter-Themed Wedding Will Make You Say 'Accio Husband' So Fast
Sure, everyone feels like their wedding day is the most — dare I say it — magical day of their lives. But one couple really upped the mystical ante.
Newly married couple Cindy and Matthew pulled off one of the most beautiful, wizard-themed events this side of the Whomping Willow, planning an incredible "Harry Potter"-themed wedding at the Hollywood Castle in Los Angeles, California.
The idea to make their nuptials wizardly was all Cindy's. She told Martha Stewart Weddings she was inspired by the dark moodiness and mystery of the "Harry Potter" films.
Matt, however, had never read the books before their wedding day, but he was happy to let Cindy's vision run wild. Eventually, he finished the series himself, though he was a little late.
This couple nailed every single detail on the big day.
Just check out those floating candles! It looks exactly like the ceiling in the Great Hall.
There were plenty enchanted centerpieces and delicious potions scattered throughout the venue.
With the help of designers Crosby + Jon, the "Harry Potter" theme came to life, including chocolate frogs, floating candles, DIY wands and more.
Their Marauder's Map invitations were just as memorable as Harry's Hogwarts acceptance letter.
These invitations were created and produced by Cindy herself.
In fact, many of her crafty designs and much of her penmanship (she's an avid calligrapher) was featured throughout the wedding and reception, like on old "Harry Potter" books and table settings.
A variety of witches and wizards were in attendance.
To make sure every detail was right, guests were asked to come in formal, wizard-inspired clothing, and of course, many of them were happy to accommodate.
Their reception rivaled the magnificent Great Hall meals at Hogwarts.
Guests sat in a reception area that was decorated to resemble the Great Hall, with each place setting holding an iconic chocolate frog for guests.
And the day wouldn't have been the same without a trusty sidekick.
Sure, Matt and Cindy don't own a white owl like Hedwig, but they do have the next best thing. Their sweet pup, Millie, attended the wedding as well and acted as the stand-in flower girl.
With 97 guests by their side, Matt and Cindy swapped vows and began the next chapter of their own personal, magical journey.
Looks like these two found themselves a "keeper" after all.
Citations: J.K. Rowling Would Be Impressed With This Harry Potter-Themed Wedding (The Huffington Post), A Moody, Magical "Harry Potter"-Themed Wedding (Martha Stewart Wedding)