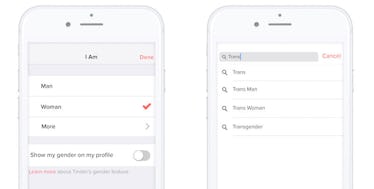 Tinder's Awesome New Feature Recognizes Trans And Gender Non-Conforming Users
Tinder
Tinder just made love a lot more universal.
Starting today in the US, Canada and the UK, the dating app is allowing trans and gender non-conforming users to "add any term that describes their gender identity" to their profiles and improve their chances of finding love.
This is a much appreciated change, seeing as online dating ain't that easy for the LGBTQ+ community.
When I first downloaded the app, I wasn't out of the closet, so throwing my most seductive photos out into the public eye and selecting "show me only men" in the settings made me uneasy.
I feared I would swipe right on someone who knew me and would out me to everyone else. But I made it through. In fact, I consider myself to be a Tinder pro, having mastered the ins and outs of a perfect profile.
And now, any gender identity can be too (just peep below what the new profile section looks like).
Now this is the kind of progress we like to see!
Tinder worked alongside GLAAD to produce up to 37 different gender options, including (but not limited to): Transgender Female, Agender, Genderqueer and the ability to write in your own option that may not be on their list.
They explain their strategy in the video below:
Both Tinder and GLAAD hope the clear inclusion of transgender and gender non-conforming users on the platform's interface will reduce acts of discrimination and harassment, and show that everyone should feel safe when using dating apps.
"Our goal is to provide a product that gives our transgender and gender non-conforming users a better experience on Tinder," CEO Sean Rad said in a press release.
"We're really excited about the update, and it is the right step to take as a company to create more meaningful connections between all of our users," he added. "Everyone is welcome on Tinder."
Since being placed on permanent high-alert following the election of Donald Trump, it's instances such as this that provide just the slightest ounce of hope for the LGBTQ+ family.
"It sends a strong message of acceptance when a platform like Tinder clearly tells its users that transgender people are welcome," said director of GLAAD's Transgender Media Program, Nick Adams, in a press release.
I can only imagine which other companies will speak out next and take a step in ensuring everyone feels equal, no matter their gender identity and/or sexual orientation.
Tinder hopes to get this new-and-improved version of the app out to the entire world soon so they can swipe as much as they want.
Love is love, after all.
Citations: Tinder update includes 37 new gender identity options (USA Today)