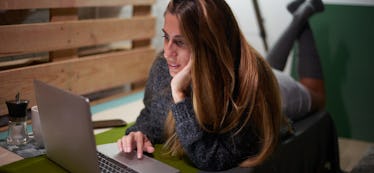 8 Common Mistakes To Avoid If You're Trying Online Dating For The First Time
Guille Faingold
Are you jeopardizing your chances of finding love before you've even really started?
To make mistakes is only human, right? Though, there are some mistakes we make with online dating without even knowing it.
Have no fear because avoiding these eight common mistakes will take you from dating zero to Tinder hero:
Not Taking The Plunge
Are you shy or scared of getting hurt? This is a common reason not to try online dating at all. It's also a bad idea to play it safe and settle for less just because you're afraid of being alone. Don't rush in and settle for a seven if a nine is what you desire.
Pro tip: Get out of your comfort zone. Take some risks, let your hair down and have some fun. You'll be glad you did.
Writing A Snooze-worthy Profile
With online dating, the more effort you put in, the more success you'll achieve. To attract attention, you need to sell yourself. Generic information and boring interests won't get you anywhere.
Pro tip: Taking the time to craft a stand-out bio will attract many more people.
Being A Liar
Never lie. It'll only end in disappointment. Trying to make your life sound more exciting or pretending you're younger, slimmer or taller than you are will only come back to bite you in the ass.
Pro tip: Be confident in who you are. If you want someone to love you for being you, then pretending to be something you're not won't get you there.
Expecting Your Prince Or Princess Appear With No Effort From You
Finding the right person requires time, energy and the right attitude. If you go out with just a handful of people and don't find someone you like, you'll probably become frustrated or depressed. Of course, I don't blame you. It's easy to just give up on online dating and walk away from the process entirely.
Pro tip: You have to manage your expectations so you're not disappointed. Understand that the dating process will take time, and there will be some setbacks along the way.
Not Giving The Slightly Shorter People A Chance
With so many options available, not giving people as much of a chance as you would in real life can lower the likelihood of online dating success. So what if they're a bit shorter than you prefer? So what if you prefer blondes to brunettes? None of this really matters in the long run.
Pro tip: Don't be too quick to move on to the next person, because no one will be perfect. Meet them, and give them a shot.
Being A "Superficial Sally"
Choosing or rejecting someone based solely on superficial qualities will not improve your dating game. Things like outward appearance, height and income are important, but they shouldn't be deal breakers.
Pro tip: In addition to what you're looking for in a partner, make sure you find out what your potential match is looking for as well. See if you fit their criteria so you don't waste your time with a message that won't get a response.
Risking Heartbreak By Trusting Too Soon
Trusting or committing too soon without fully knowing the other person and their intentions can lead to unnecessary heartache. You might feel like you can trust a person, but it takes a while to really know someone. Not to burst your bubble, but there are a handful of deceitful people out there, and it's up to you to protect yourself.
Pro tip: Take things slowly, and don't rush in.
Throwing In The Towel Too Early
One of the biggest online dating mistakes is writing it off completely after one bad experience or after a period of no matches. Becoming a pro with online dating takes time.
Pro tip: If your goal is to find good matches then you need to invest the appropriate time and energy to achieve your dating goals. Quality effort makes for quality results.