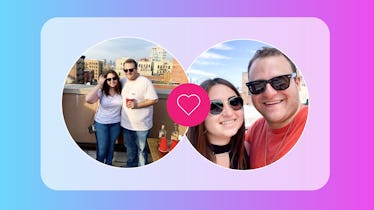 This Couple In NYC Met On JSwipe & DTRed After Just One Week
Elite Daily/Kelsey Cadenas + Lauren Dana
Are you dying to know what a couple's relationship is really like? Elite Daily's new series, ILYSM, celebrates couples who met on dating apps and dives into the inner workings of their relationships. How did they know they were falling for each other? Who sent the first awkward message? What's the one thing they fight about? Are they astrologically compatible, and do they care? By the end of each story, you'll love them both so much.
Lauren Dana, 21, and Zach Ellman, 26, met on JSwipe just under two years ago, back when she was on summer break from Syracuse and he was working as a personal assistant to a celebrity. After a pre-date FaceTime, they met for drinks in New York City and quickly fell for each other. How quickly? Knowing they had something special, they made their relationship official just a week later, before Lauren went back to school.
After nine months of dating long-distance, they now live together in a studio apartment. These days, she works as an editorial assistant at a travel media company and he works as a teacher while pursuing his master's degree in education. Lauren and Zach hope to get engaged soon, and dream of getting a dog together someday.
Here's their story: