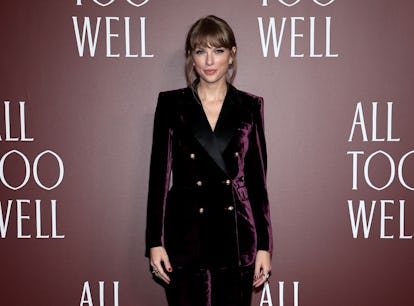 Taylor And Jake's Rumored Relationship Timeline Is Pretty Intense
Let's unpack those three months.
Dimitrios Kambouris/Getty Images Entertainment/Getty Images
Based on the 10-minute version of "All Too Well," it sounds like Taylor Swift and Jake Gyllenhaal weren't together for a long time or a good time. While neither star has ever spoken publicly about their rumored relationship — or even confirmed that they really were together — their reportedly tense romance is widely assumed to be the inspiration for several songs on Red, including "All Too Well."
Between the new lyrics and the corresponding short film, it appears that Swift is shedding new light on their former relationship. Throughout the searing track, Swift doesn't paint her ex in the most flattering light. At one point in the song, she sings: "You said if we had been closer in age maybe it would have been fine / And that made me want to die / The idea you had of me, who was she? / A never-needy ever lovely jewel whose shine reflects on you." Oof.
But what really went down between Swift and Gyllenhaal — if anything at all? A closer look at the timeline of the singer and The Guilty actor's rumored relationship gives fans a sense of just how well art can imitate life. Their rumored romance was short-lived, but that doesn't make it any less heartbreaking.
Truth is, we'll probably never know exactly what went down between Swift and Gyllenhaal — yes, even though Swift's All Too Well: The Short Film seemingly broke down their relationship into seven convenient parts: An Upstate Escape, The First Crack In The Glass, Are You Real?, The Breaking Point, The Reeling, The Remembering, and Thirteen Years Gone By.
All in all, their relationship timeline prompts more questions than answers (like, seriously, where is the scarf, Maggie?). Still, Taylor's Version of events is — at the very least — very catchy, even if it is mostly speculation for now.