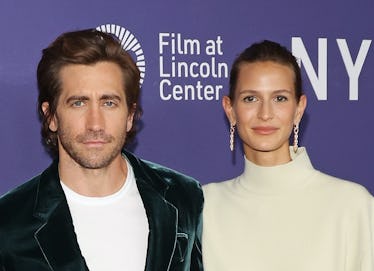 Jake And Jeanne's Relationship Timeline Is Super Mysterious
They ~love~ their privacy.
Taylor Hill/FilmMagic/Getty Images
If you were to ask Taylor Swift fans, Jake Gyllenhaal is not known for being a great boyfriend. Don't believe me? Listen to Red (Taylor's Version), watch All Too Well: The Short Film, and then get back to me. But Jake's romantic relationship with Jeanne Cadieu tells a completely different story. Since they started to see each other in 2018, Jake and Jeanne have had a seemingly smooth and drama-free relationship. Sure, they've kept their connection pretty hush-hush (to this day, they still don't follow each other on Instagram), and their relationship timeline is... sparse, but what we do know sheds a pretty flattering light on this duo.
Jake's secrecy should not exactly come as a surprise. The actor is famously private about his personal life. In a 2017 interview with the Guardian, he spoke about the challenges of being in a public relationship. "I think when you're in a relationship, you are constantly scrutinized, your friends are scrutinized," he said at the time. When pressed for details about his opinion of Swift's music, he shut down the conversation by saying, "I would love to not talk about my personal life."
So keeping his relationship with Jeanne on the DL is essentially Jake's dream scenario.. and he might have been onto something. From the little that I know about it (seriously — they love privacy), Jake and Jeanne's relationship seems like a perfect fit.
Admittedly, there is still very little we know about Jake and Jeanne, but it seems like their three-year relationship is only growing stronger and stronger. So maybe keeping things as private as possible is the way to go?