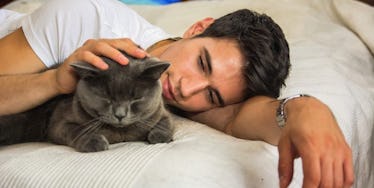 More Single Guys Are Buying Cats To Appeal To Women, And It'll Definitely Work
Shutterstock
Typically, dogs reign as the best animal companion for guys, but a recent survey found that men are favoring cats more these days.
According to the Pet Food Manufacturers' Association, the label of "man's best friend" now belongs to these fuzzy felines, as the number of cat owners rose to 8 million in Britain — a 500,000 jump from last year.
And of those 8 million cat owners, over 5 million are dudes. So what's causing the sudden influx of guys purchasing Meow Mix by the bundle, you ask?
Well, they're trying to get with all the lady cat lovers, of course.
While a picture of you cuddling with your adorable pet will most likely get you a right swipe on Tinder, dating experts have confirmed that these animal-centric photos on dating profiles really appeal to a female audience.
In other words, posing with your pet will probably land you a hot date.
Another speculation? Cats Protection's Social Media Manager, Gemma Croker suggests that male celebrities like Ed Sheeran and Macklemore are sharing their love of cats on social media, and that may be what's contributing to a high increase in male cat owners.
Croker said, "Cats have always been on social media but we have definitely noticed more men openly expressing their love for their feline friends."
The evidence below certainly supports Croker's hypothesis.
I'd purr for you, Liam.
Did Macklemore find that cat at the thrift shop?
That black cat has NO idea how lucky it is.
All I want in life is for Grant Gustin to look at me like that.
Look! It's a real kitten and a red-headed sex kitten.
"It is possible that [male celebrities and their cats] may have triggered an increase in popularity for cats among the general male population, which is great news for re-homing cats," Croker added.
The results of this survey sounds like a win-win situation for everyone involved. These cats get a home, and guys have a better chance of meeting a fine young lady.
If you pose with a puss, you may get some in return.
Citations: Feline frisky? Single men fuel surge in cat ownership as dating experts advise cute companions are a hit with women (MailOnline)