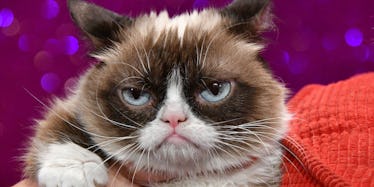 Cat Owners Love BDSM More Than Anyone, Putting The 'Crazy' In Crazy Cat Lady
Rex/Shutterstock
I have a confession to make: I love cats. I'm a lesbian cliche, and I've been pussy (cat) obsessed my entire life.
Now, I have another confession, but this is just between you and me: I also happen to have a little ~bondage~ fetish. OK, it's a big bondage fetish. But let's not judge.
But what does my love for black leather whips have to do with my love for fluffy, elusive, bitchy kitties?
Well according to SCIENCE, it turns out cat owners are more inclined to have a hankering for le bondage.
A new study reveals a real symptom of "toxoplasmosis" — a parasitic infection humans can catch from our precious baby kittens and adult cats — is feeling sexually turned on by "fear, violence and danger."
In simple terms, this means your fantasies about being spanked could very well be a symptom of a parasitic infection. A parasitic infection that comes from cat shit, nonetheless.
Yup, that's right babes, CAT SHIT. You don't contract toxoplasmosis by merely petting your seemingly innocent, purring kitten in your naked fingertips.
It's found in the cat's feces — and dealing with cat feces is just one of the many non-glam realities of being a cat owner.
You aren't a real cat owner until you've handled cat feces, so don't go acting prim like this toxoplasmosis won't happen to you. We're all at risk, honey.
I'm a little dismayed that my BDSM impulses are likely to be due to the fact that I'm a lifelong cat owner with an infection from cat shit and not because I'm a complicated woman with mysterious, repressed issues that have manifested in a desire to be dominated.
According to The Independent, one-third of the world's population is infected with toxoplasmosis.
According to The Independent one third of the world's population is infected with toxoplasmosis.
Um, why do I feel like I'm writing about an STD? And to make it even more STD like, toxoplasmosis is usually a-symptomatic, but when it does have symptoms (that are physical) they're often "flu-like."
Or... they just make you want to be dominated in the bedroom.
Jaroslav Flegr, who led the study, explains that it's pretty normal for people to get a little hot and bothered when they're afraid, but being really, really, really turned on by fear is elevated in people in those infected with toxoplasmosis possibly because of the effects the parasite has on the brain.
So parasites can somehow make us kinkier, I guess. I don't know, it's a strange, strange world.
On a darker note, toxoplasmosis has also been linked to behavior change. Some studies have even shown that there may be a connection between the infection and schizophrenia, bipolar disorder, OCD and aggression.
But you know what, babes? Let's keep it light and just try to digest the fact that our love for leather and chains has to do with the fact that we've been cleaning up cat shit for far too long.