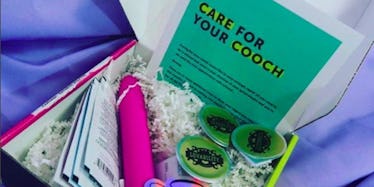 Everything Your Vagina Needs For A Great Sex Life Comes In This Subscription Box
Instagram
Don't you love it when the universe answers prayers you didn't even know you had?
Well, a new women's monthly subscription service is catering to the needs ladies have had their whole lives and just never realized it (AKA any needs related to womanhood in nutshell).
What's In Your Box? is focused on improving women's sexual pleasure and sexual health by sending four to five sample products for sexual health, hygiene, pleasure and empowerment right to your door every month.
Christine Long, the creator of WIYB, embarked on the project to help implement and encourage open conversation about sexual pleasure and STI prevention for women — two topics that have long been considered taboo.
Long told POPSUGAR,
I was inspired to start WIYB after my own personal run-in with STIs, which caused me to feel a lot of shame around my body and sexuality. As a young woman in her 20s wanting to explore sex, I felt there were no relatable brands or resources I could turn to that would help me take charge of my sexual health.
Furthermore, Long picked up on a "prevalent orgasm gap" between heterosexual men and women in that it is much easier for men to have one and to talk about it.
With this in mind, WIYB curates a specialized selection of female products designed to promote safe and more satisfying sex for women.
For a subscription price of $15 to $18 a month, women receive sample products, including things like toys, lubricants, sexy attire, condoms, hilarious and inspirational pieces of advice and more.
Even better, consumers can rest easy, as delivery is "discreet."
WIYB appropriately describes themselves as being "on a mission to (ful)fill your box," and the humorous yet educational play on both information and products keeps this service fresh, inviting and relatable.
Additionally, WIYB linked up with graphic designer Cristina Vanko and writer Eileen Matthews in honor of Vulva Health Awareness Month. The two helped create some amazing graphics, one of which features Beyoncé lyrics. BECAUSE OBVIOUSLY.
If you're looking to get a better idea of what WIYB is all about, I HIGHLY recommend checking out their Instagram feed. It's awesome.
Be loud, be proud and enjoy your box.
Citations: This Monthly Box Makes You Feel Empowered About Your Sexuality, Not Embarrassed (POPSUGAR)