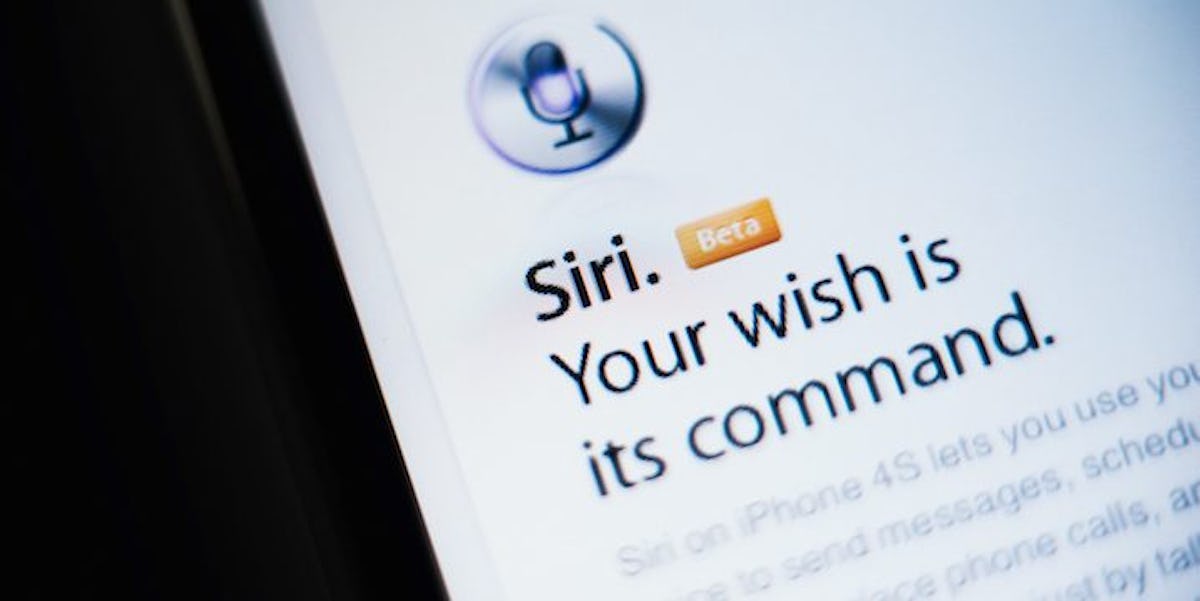 People Are Apparently Having Sexual Fantasies About Siri, So Love Really Is Dead
Shutterstock
A report issued by the J. Walter Thompson Innovation Group and Mindshare found that users of voice-activated systems like Amazon Echo and Siri are "intimately connecting" to them.
And they're not just intimately connecting with them in frustrating, philosophical debates, like the way some people usually do with Siri.
No, they're connecting to their devices in a more sexual way. Or at the very least, they're fantasizing about it.
According to the report, over 25 percent of people who use digital voice assistants — like Siri and Alexa — confessed to having sexual fantasies about them.
In fact, the report also says that 37 percent of people who use Siri or Alexa admit that they love their assistants so much, they wish they were real people.
That's over a THIRD of them! TBH, it just makes me feel sad for how lonely they might be.
In a world where Bluetooth-activated vibrators and virtual reality sex are really a thing, this should come as no surprise.
It's only a matter of time before the companies behind our cyber assistants start finding out a way to turn this weird sex fantasy into reality.
The report stated, "For brands, the opportunity will be navigating this ever-closer relationship as voice assistants become increasingly powerful gatekeepers to the consumer."
Yep, I'm just gonna say what we're all thinking: It's like the movie "Her" but in real life.
Honestly, I'm not surprised by any of this. People have gotten way too attached to their digital assistants, even beyond being sexual.
A couple years ago, I woke up to my then 10-year-old nephew in a screaming battle with Siri over whether the chicken or the egg came first.
When I calmly explained that Siri was a robot, he exclaimed, "She's SO annoying! I don't care if she's not a person!!"
Even I'm guilty of sometimes spending an entire hour asking Siri all of life's deepest questions, despite the fact that she is not a living person. (Spoiler: She was a bitch.)
Well, according to this report, it's clear my nephew and I were not the only people who don't care that Siri isn't a real human.
So... yeah, that's pretty creepy. Get ready, ladies. Looks like our boyfriends will be leaving us for Alexa pretty soon.
Citations: The Future Answers To You (J. Walter Thompson Innovation Group), It's official: People are having sexual fantasies about their digital voice assistants (Mashable)