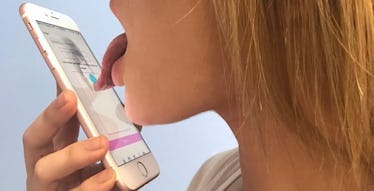 Guys Can Upload Their Oral Sex Skills To 'iTunes Of Oral' By Licking A Phone Screen
CamSoda
After the success of their Valentine's Day-inspired "virtual blowjob," adult webcam site CamSoda is at it again with another digital pleasure invention.
And this time, they're using Women's History Month as a way to target all you well-deserving ladies out there.
But how exactly are they aiming to please all the women of the world?
Say hello to "O-Cast," a new online platform that offers "simulated cunnilingus recordings" that are uploaded onto the website by world-renowned porn stars, camera models or regular Joes like you and me.
"Following the successful launch of BlowCast, or what many referred to as the 'iTunes of Blowjobs,' we wanted to extend our offering to women in commemoration of Women's History Month," said Darren Press, Vice President of CamSoda.
He continued,
We're especially excited to announce the launch of O-Cast, which will have women around the world climaxing courtesy of their favorite porn star, cam model and/or average Jane/Joe. Users can put their oral skills to the ultimate test, using their tongues to record their very own cunnilingus and (hopefully) bring out women's O-faces.
After recording your tongue's finest tricks by licking and flicking your phone screen (you can use your finger, too), you can then upload that file directly to your Lovense "Lush" Bluetooth egg vibrator and experience all the oral sensations completely on your own — no mouth or hand necessary
So essentially, someone can now go down on you without actually being present.
This certainly isn't the same thing as a flying car, but this technological spin on cunnilingus is pretty damn interesting, to say the least.
Anyone can access the website on their iOS or Android device. From there, you can get lickin' (hopefully not in public).
Just click the "Give An Orgasm" button and cross your fingers that your moves will help give someone a killer "O."
Every single recording will be open for free download until March 31. After that, each file will be available for purchase for just $0.99.
It's instant pleasure with the push of a button... well, with your tongue, too.
There's no guarantee of satisfaction, so you'll just have to hope the people uploading these files know what they're doing.
And if you're the orgasm giver in this situation, you can revel in the pleasure of... licking your phone screen.
That's always been a dream of mine, obviously.