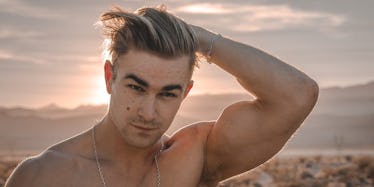 A 'Magic Mike Live' Dancer Reveals How Watching Men Strip Is Empowering To Women
Cole Walliser
If you were to think about "Magic Mike," odds are, your thoughts would immediately land on things like Channing Tatum's abs, its masterful hip-hop choreography and lots of balls in your face.
But "Magic Mike Live," Las Vegas' new male revue show, is so much more than just your routine strip performance.
While it's most definitely still drool-inducing, this fresh take on male eroticism is meant to put you in a different mindset outside of making you feel aroused.
The entirety of this 90-minute strip tease spectacle is meant to be a positive experience for viewers — especially for women.
In fact, women should feel filled with confidence after making their way out of the fictional Club Domina nightclub.
"Channing [Tatum] has done so much research as to what women actually want," Anton Engel, one of the "Magic Mike Live" dancers, tells Elite Daily. "Women want to feel respected and empowered and valued. And that's what we want to achieve."
The high energy is kept consistent by the half-naked troupe of dancers, along with the show's female MC. If anyone watching the show feels uncomfortable at any point, they're welcome to speak up using a safe word. (To be honest, I'm not sure why anyone would do such a thing because if I were surrounded by shirtless, sweaty guys, I'd feel right at home.)
Engel continues,
The women's energy in that room during our shows is just something else. It's just this big immersive show and we want them to leave in a different mindset. They should feel confident. That's what we try to give to them with our performance — that's how it all comes together.
Engel is just one of 13 ridiculously attractive men to grace the "Live" stage, and he's equipped with years of dance training (and an incredible body) to help fight that cheesy cliche that comes with being in a burlesque-type show.
He assures me that the show, under the direction of Tatum himself and choreographed by Alison Faulk, is a one-of-a-kind experience with something "brand new to be seen in the performance industry."
Sure, clothes will be shed, but you can expect to watch way more than just generic gyrations across that Las Vegas stage floor.
Engel says,
If Channing were to do a third movie, this is what it's about. There's something about it that's quite similar to the films, but it still has its own touch to it.
Audience interaction is also something that's more than encouraged at this live-action take on "Magic Mike." Patrons seated around the stage are handed pink slips, printed with "you're welcome" across the paper, as a substitute for dollar bills.
It's plain and simple: The men of "Magic Mike Live" know exactly what you want, and they are prepared to give. It. To. You.
And if you didn't think it was possible to leave a strip show feeling comfortable in your own skin, think again.
So what're you waiting for?
Go witness some real magic happen.