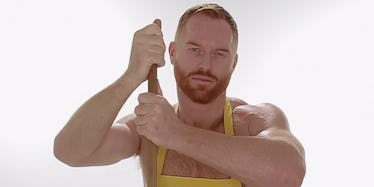 This Sexy AF Lube Commercial Was Banned In This US City For Being 'Too Gay'
YouTube
A company's new lube commercial has people "churning" the wrong way, so much so that it was banned from airing in Chicago for being a little "too gay" for audiences to handle.
No, I'm not kidding.
A few weeks back, Boy Butter released their latest advertisement to play during VH1's "RuPaul's Drag Race":
The ad featured red-headed sex pot Seth Fornea in nothing but a yellow apron.
In between his legs stood an old-fashioned butter churn, with a handle for him to stroke and stroke and stroke until that dairy product reached completion.
The footage is a montage of closeups around Fornea's apron, his hands as he goes to work and his facial expressions as the churning picks up speed.
Rest assured, there's no nudity whatsoever, and no penises were harmed in the making of this commercial.
Despite the commercial still being allowed to air in other parts of the country, like in New York, Los Angeles and San Diego, Boy Butter founder Eyal Feldman is convinced broadcast company Comcast couldn't handle "the level of gayness in the ad."
Feldman says,
One would think that in the Midwest the sight of a butter churn would bring back nostalgic feelings of nearby dairy farms, but alas, if a gay man is churning that butter, not so much.
Feldman goes on to say that one of his favorite things about Boy Butter is developing advertisements that stand out and go beyond the limit of a normal commercial.
His end goal? To "push my products as well as my own gay point of view."
He continues to make excellent points on his blog, calling into question other sexually charged advertisements, such as model Charlotte McKinney promoting Carl Jr.'s, that don't receive as much slack because they're centered on a female.
But with the Boy Butter's advertisement being focused on a gay man and some quality lube, it's a whole different ball game now.
Daniel Robinson, director and producer of the controversial commercial, believes this is just another example of unnecessary vilification in the gay community.
He said, "I think it's Chicago's loss and a clear representation of how shamed and stigmatized our sexuality is."
Even with all the pushback from Comcast, Feldman hopes to do some good with Boy Butter in the television realm by creating "a space where gay men can watch images of themselves, not only in the shows that [they] watch but also the advertising that sponsors them."
It's 2017. It's about damn time something like this hits the airwaves without being disputed.
Also, who doesn't like butter?
Citations: Watch the controversial lube advert banned from television for being 'too gay' (Gay Times UK)