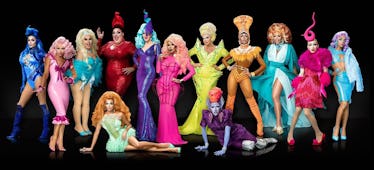 Cast Of 'RuPaul's Drag Race' Wants You To Know Drag Is More Important Than Ever
Logo
This week, the ninth season of "RuPaul's Drag Race" is sashaying back onto the small screen, and we're ready for all the wigs, gowns and "tucks" the series has to offer.
If you're unfamiliar, each season hosts a crew of the world's most talented drag queens to compete for the ultimate title of "America's Next Drag Superstar," while vying for the admiration of celebrity judges like Lady Gaga, Kesha and, most importantly, the iconic RuPaul.
Since premiering in 2009, the groundbreaking show has taken on a life of its own, providing an important platform for conversations in the LGBTQ community, all while introducing mainstream audiences to the art of drag.
This season, "Drag Race" will move from its original home on Logo to Vh1. The swap is an exciting one for RuPaul, who feels the new network can push the positive ideology behind the series — and drag — to an even wider audience.
While promoting the show's brand new season on "Good Morning America," the Emmy Award-winning host spoke to Lara Spencer on the importance of drag today.
He says,
In this culture, in the political culture right now, the fact that we get to show people that love is strong, we are Americans, and we believe in open hearts and love. We believe in love, in acceptance, and this show is so important more now than ever.
So when we caught up with some of the Season 9 cast at Vh1's "Meet the Queens" premiere party in NYC, we asked for their opinions on drag's importance today. Here's what they had to say:
Sasha Velour, Brooklyn, New York
I think in political moments that are fundamentally repressive, that say that certain types of identities are less valuable, drag always puts its foot down and says 'it's on us to decide what has value and beauty.' We have to insist that we are glamorous and beautiful, sometimes even creating that entire world for ourselves. We have to create a different world in this moment to continue surviving and drag is the prefect landscape to do that in.
Alexis Michelle, New York, New York
With the climate that we're in right now, drag is about bringing levity in the world and that will be very important now because people have been feeling down a lot, for good reason, and yes, part of our responsibility is to lift them out of that and maybe take them out of that for a moment. And I believe that it's also time for us to speak out for our community. So, it's very important and I will do my best at that task.
Eureka O'Hara, Johnson City, Tennessee
We live in a time where we need something to distract us and put our attention to, but we also need something to show us strength and positivity. What does that more than drag? It's about being yourself. It's about gender fluidity. And it's about having fun, something to look forward to, hopefully every week.
Farrah Moan, Las Vegas, Nevada
Drag is so important right now, especially with 'he who shalt not be named' as our president. I mean, we've made all of this progress and I can't imagine if I was in high school right now. Kids need something to know that their weirdness is amazing. I mean, I dropped out of high school because I was so severely bullied. I remember getting death threats, being shoved into lockers. I mean, there was one time my family stayed in a hotel for a couple of nights after a severe death threat… and I remember looking up to people who were just acting as themselves and thinking if I can just survive high school, I know my life can change. I think drag shows people just that.
Kimora Blac, Las Vegas, Nevada
Drag from five years ago, from even 10 years ago, has changed so much. It's not just a boy dressing up, it's escaping reality and becoming something incredible. It's next level. Being on Vh1 is going to open even more doors and I'm so excited to see what's next for drag.
Peppermint, New York, New York
Drag has always been extremely important. Since drag is connected to sexuality, and politics, and gender, and race, and religion and everything that humans go through, it's equally as important now as it always was, though other people may need it more today. The impact may be greater today than we may remember in the past.
Jaymes Mansfield, Madison, Wisconsin
Drag is really what we need in this world, especially to get through these next four years. Helping people laugh is so important. Plus, the more you can say 'yaaaas,' the better the world will be.
Trinity Taylor, Orlando, Florida
It's so important for people to be open and honest about who they are no matter what. No matter what you want to do with your life — be gay or straight, if your trans, whatever religion you are, anything — you should be proud. It's also important to show compassion to those who are different than you. The world is missing love and that's what RuPaul is always preaching. You have to show love and kindness and this show does that. It's OK to be whoever you are… even if you want to be a drag queen.
"RuPaul's Drag Race" premieres Friday, March 24, at 8PM on Vh1.