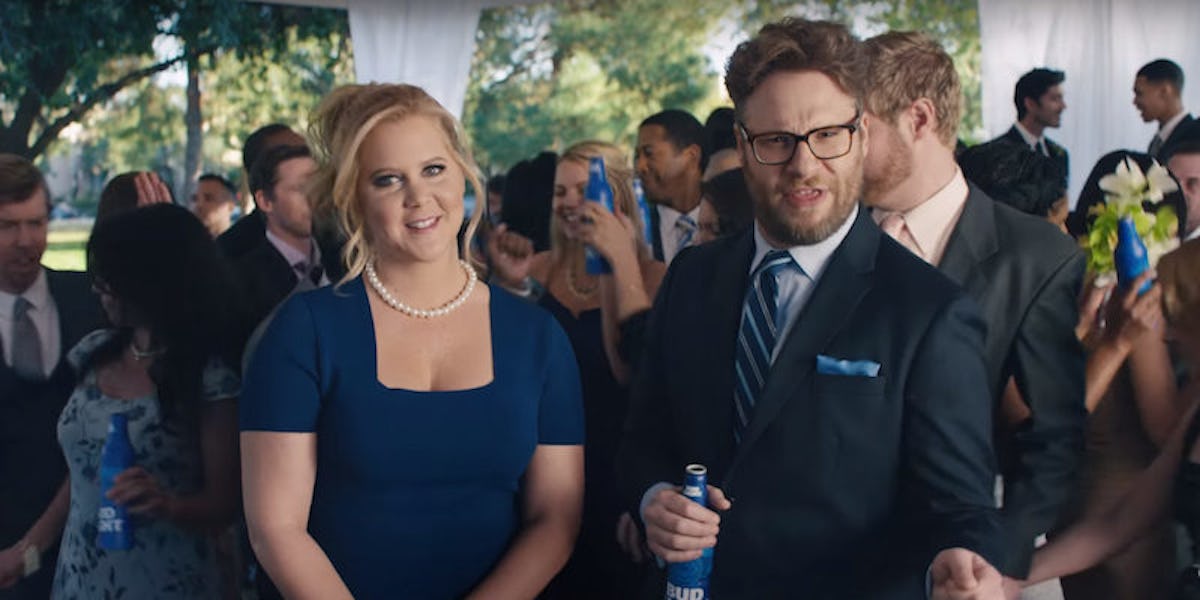 Bud Light's New Same-Sex, Celebrity-Filled Wedding Commercial Is Everything
YouTube
As of Wednesday, it's officially Lesbian, Gay, Bisexual, and Transgender Pride Month and you know what that means: the most pander-y feats of commercial pandering. People in advertising may be the most accepting demographic of all because they will gladly accept money from anybody.
Bud Light might have officially won us over, though, with its new ad supporting same-sex marriage -- and guzzling beer, of course. With Amy Schumer and Seth Rogen as the stars, the ad (featured above) quips how same-sex marriages are just like any other marriage. They list the classic wedding clichés like "cringe-worthy speeches," "the girl who's super ready to settle down" and "cake."
The short spot ends with Rogen summarizing,
Bud Light proudly supports everyone's right to marry whoever they want.
So who's behind this actually funny and uplifting ad? Alex Lambrecht, the vice president of Bud Light at Anheuser-Busch, said in a statement,
The Bud Light Party champions inclusivity among modern beer drinkers and bringing people together—for fun—over a beer... By featuring Seth and Amy at a same-sex wedding, we're showing how all weddings—regardless of who is getting married—share many similarities and moments to celebrate. We created this spot because equality for all Americans is a concept that unites many Bud Light drinkers.
Let's drink to that.
Citations: Bud Light is looking to toast diverse drinkers with a same-sex wedding ad (Business Insider)