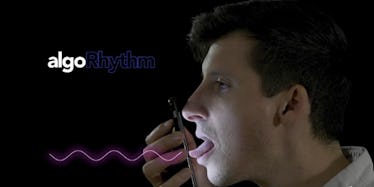 Hilarious Video For App Called 'Lickster' Teaches Men How To Give Good Oral
YouTube
Wouldn't it be incredible if we could just TEACH men everywhere how to be amazing at going down on us? Like, if there was some sort of tool we could give them to practice at home? Something that shows improvement and builds technique?
Well, according to Dude Comedy, "Lickster" is just the (fake) app to do it.
In a hilarious parody commercial from the YouTube account "The Kloons," men pitch their fake app "Lickster" as a way to teach the user how to be a rockstar at giving head. And TBH, it's an awesome idea.
I wish this app wasn't fake. Because If I knew every man on this earth could become a pro at the mere price of, say, $2.99, I'd buy subscriptions as stocking stuffers for everyone I knew at Christmas time.
Seriously, take a look.
The video itself breaks down all of the hilarious, practical and, like, pretty accurate tips and tricks anyone would need to know to give amazing oral sex.
Its description boasts this funny overview: "Lickster is a revolutionary new training game that will make you a cunninglingus pro, lickity-split."
Get it?! Do you guys get it?!
If you're still confused, the commercial clarifies, "It's just like 'Candy Crush,' but instead of crushing candy, you're licking a digital vulva."
Yup. Checks out.
Awesome features include instructions on how to perform a few signature moves, including but not limited to...
The "Up Down Left Right"
The "Criss-Cross Applesauce"
And somehow both my favorite and most offensive, "Bottom-of-the-Yogurt-Cup, aka Cervix Explorer."
Other hilarious features include "audio feedback," so that the user gets better at their technique, audible praise to keep you motivated and "learning" and upgrade options to teach you more about other parts of the body like the anus.
Just like any other training application you might know, Lickster allows you to link your statistics, achievements and profile to your social media so "your friends, families and co-workers will always know whose on top of going down."
Ugh. Brilliance. It's like the "Dance Dance Revolution" of oral sex.
While this video IS a spoof, the way things are today, I'm sort of surprised to find out nothing similar already exists.
Of course, there is the obvious hangup of having to lick your physical phone screen (woof), but besides that, this all seems pretty legit to me.
The commercial ends with the signature catchphrase, "Lickster, stop fingering your phone, and start licking it."
Finally, somebody said it.
Citations: Guy Created 'Lickster' App Designed To Make You Better At Oral Sex (Dude Comedy)