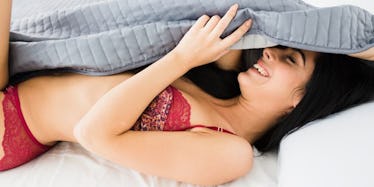 Guys Reveal Their Favorite Thing Girls Do Before Sex And You Definitely Do It Already
Jovana Rikalo
Men, you goofballs.
Guys were presented with the truly inspiring question, "What is your favorite things girls do right before having sex?" on Reddit, and you would think men's preferences would be endless.
Maybe they prefer lots and lots of mood lighting and a girl putting on some super sultry music. Or maybe they are into showering together, some sort of visual, intense foreplay or a certain outfit.
Perhaps they prefer a good, ol' pizza to get their energy up and their endorphins kicking.
Or maybe they are into some other secret and mysterious thing that we don't even know about yet!
But alas, that wasn't the case for these guys. All they care about is that you're naked and you're into it.
These Reddit users like to stick to what I call "The Three Basic Rules for Sex Prep":
Step 1: Get Ready
You know, the basics. Ponytail up. Clothes off. All systems go.
Get naked. - /u/9DAN2
The ponytail - /u/ZexonNerotaki
'The look' along with a 'come here' motion with a finger. Ho lee shit -/u/Stevenson123
Take their clothes off -/u/Mustang80
Step 2: Give consent.
Sing it with me, now:
Consent! Consent! We love consent! 
We don't like to be surprised Wait to hear we're "ready!" guys!
Consent! Consent! We love consent! 
You can add dance moves at your discretion.
Say 'We're about to have sex' -/u/nickachu
Consent -/u/stealthy_singh
Agree to have sex with me -/u/subtle_af
Say 'yes.' -/u/macallen
Step 3: Make it sexy.
Or, you know, just say whatever stuff this guy is into, I guess?
i like when they say sexy stuff like 'hurry up the bus is coming' -/u/gilmore606
For me, nothing gets me primped for bone town like when a guy first brings home lots of ice cream, shows it to me and lets me watch him put it in the freezer, so I know it's safe and ready for later.
BUT THAT'S JUST ME. DON'T LET ME SWAY YOU.