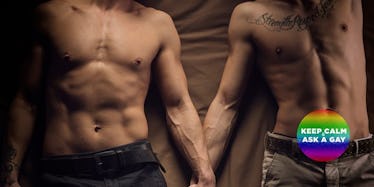 A Gay Man Reveals The One Thing Girls Need To Do To Give An Amazing Blowjob
Igor Madjinca
First, we have Zara. She's 30 years old and has some questions about doing butt stuff.
Are there any certain foods I should probably avoid before having anal sex?
You would think "steer clear of Mexican at all costs" would be my go-to response, but in all honesty, this is all dependent on how well you know your body (and your bowels).
I shovel tequila and tacos into my face on the reg. Maybe I've just grown tolerant of the ingredients, but I just think I'm smart with my food choices.
Common sense says don't pick anything you're allergic to or a weird dairy product that typically upsets your stomach if you're about to get into some butt play.
I've had a terrible case of butterflies throw me off my sexual game more than the dinner I ate a few hours prior, so it's best to just relax and not get worked up.
If you do want to get specific when it comes to exactly what foods to avoid, I'd just stay away from any meal that leaves your stomach feeling heavy and bloated.
Think less carbs, and more carrots.
Most sex isn't scheduled on a calendar, so just plan your meal accordingly as best as possible, and don't sweat the small stuff.
And when in doubt, Pepto Bismol can be your best friend.
Next, we have Alexia. She's 23 and wants to up the ante when it comes to giving head.
What's a secret tip to giving blowjobs that I've totally been missing out on?
Girl, don't even get me started.
Being on the giving and receiving end of things, I can talk blowjobs for days. But time is money, and I've got dinner reservations later, so let me just get straight to the point.
I bet there are times when you're really getting in the zone. You're working and jerking with all you've got, using mathematical formulas to figure out where you should angle your mouth, while simultaneously rubbing your hands all over.
Blowjobs are a goddamn science, I know.
But while you're all up in our crotch area, you also still need to be aware of "us."
That secret (just the) tip you've been yearning for is not to show off all your cards, even if this isn't your first rodeo.
You've got mad skills, I know, but if you feel us tugging away when you're giving a blowjob, it's because it's 37 seconds in, and we're about to blow our load way too early.
Sure, we may throw out a healthy moan or throw out a gleeful comment to signal our enjoyment, but look up and make some healthy eye contact.
Blowjobs may not be the appropriate time for a full-fledged conversation, but we appreciate a check-in every once in a blue moon.
We may be totally enthralled by what you're doing, but that doesn't mean we want it all done at once.
More often than not, we want this experience to last, so pay close attention to how he's reacting to that weird tongue thing you're doing.
There are two people (or maybe more — I don't judge) in the room when a blowjob is happening. If you want to achieve certain result (AKA give your guy a killer fucking orgasm), don't be an overachiever.