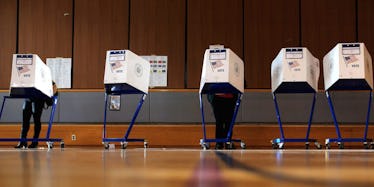 If You Live In New York, You Can Get A Free Sex Toy After You Vote Today
REUTERS
ICYMI: It's Election Day.
Need some more motivation to get out of bed or extend your lunch break to vote? If you're not going to do it for the wellbeing of our nation, well then, do it for the sake of your sex life.
And no, I'm not just talking about your reproductive rights (because, just a reminder, those are at stake here too).
I'm talking about FREE SEX TOYS, BABY.
That's right, if you live in New York City, you can stop by luxury sex toy shop, Babeland, for some free toys once you're finished voting today.
The store — which has locations in Brooklyn, Soho and the Lower East Side — will be giving the first 100 customers who say the word "vote" the choice between TWO orgasm-giving products. FOR FREE.
Let me repeat for dramatic emphasis real quick: You can get free sex toys for voting.
God Bless America.
What are the two products, you ask?
One is the Babeland Silver Bullet, a mini vibrator that usually goes for $15. It raked in a 4.5-star average in user reviews, so looks like it's an undeniable crowd favorite.
If the mini bullet isn't really your speed, you can go for the Babeland Anal Beads.
The beads usually go for $17 and are guaranteed "to take that orgasm to the next level." BOW CHICKA WOW WOW.
Wondering why they picked these two toys out of all of the toys in their inventory?
Well, according to the store's Eventbrite page, called "Come Together" (LOL), apparently these two options are meant to satisfy the sexual desires of Democrats and Republicans alike.
A survey of Babeland customers actually found Democrats are most likely to masturbate using sex toys (like the silver bullet), while Republicans are more likely to use anal products (like the anal beads).
See? There's something for everyone!
Even if the thought of Donald Trump as president has completely dried up your vagina, and the thought of doing anything even remotely sexual is a million miles away from you right now, you've gotta admit: this is a pretty orgasmic deal.
Citations: New Yorkers Can Get Free Sex Toys on Election Day (Glamour)