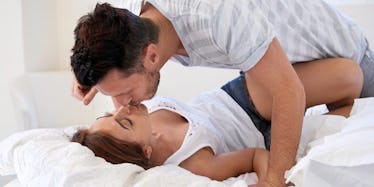 Almost Half Of Americans Admit Their Partners Kind Of Suck In Bed, Science Says
Daxiao Productions
Even at its hottest and sweatiest, sex can still be pretty subpar.
I'm sure you can recall a moment in time where you're sprawled out in bed underneath your partner's thrusts, wishing you could just be in a onesie watching "Girls" reruns.
It's not that you don't enjoy getting off, it's just that your partner's bedroom skills only go so far. Not only are your eyes about to roll into the back of your head, but sometimes, it's tough to keep 'em open.
Don't worry, you're not alone in thinking your partner's sexual abilities are mediocre.
According to DrEd's survey of 2,000 men and women, Americans were more likely to admit their partners suck in bed than Europeans.
A whopping 46 percent of those Americans surveyed admitted their lover's abilities were subpar, while only 27 percent were willing to say the sex was relatively good.
On the other hand, 40 percent of Europeans don't have many complaints in the bedroom, citing their partners as more than capable of showing them a good time.
This makes sense, as only 36 percent of Europeans admitted to ever faking an orgasm, compared to 53 percent of Americans.
This is starting to make me think I'm living in the wrong country. Have I been doing sex wrong this whole time?
More statistics from the survey also revealed that faking an orgasm is a lot more common than you'd think.
People from the United States can master the "Nae Nae," but they are apparently incapable of coming.
Let's get our shit together, America.
Apparently, it's those who've been tied down for a long time who are prone to faking their "O" face.
Around 31 percent of men and women admitted to faking an orgasm with their long-term partners (which makes sense because shit could get boring if you've been together for ages).
It's not until after you've put a ring on it and gotten married that faking your "O" seems to become much less of an issue.
In this case, only 15 percent of men and 20 percent of women say they still have to pretend to finish in bed.
This lower percentage is most likely because you're now with that person forever, and faking it is pointless at that point. You could come in 10 minutes, 10 seconds or not at all. You're still waking up to that person for the rest of your life.
I think everyone should just be grateful they're having sex in the first place. Stop going on and on about how shitty your partner is at sex just because you can't seem to reach completion.
It sounds like it could be a bit of personal problem here. Sex is a team effort. If you think they suck in bed, you should talk it out with them. Let them know what you like and what you don't. Odds are, you might not be pulling your weight either.
Until the day "comes" where everyone in the world manages to be sexually satisfied, we all just clearly need to get our shit together.
Citations: Faking It: Exploring Why Men and Women Fake Orgasms (DrEd)