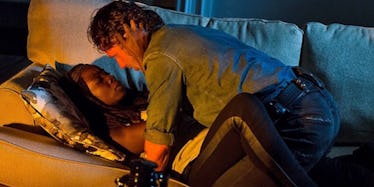 10 Sexiest TV Moments Of 2016 That Left All Of Us Feeling Extremely Satisfied
AMC
Though this year may have truly put us through the ringer (goddamn you, Donald Trump), it's our quality downtime on the couch — beer in one hand with the other down your pants — that we've come to truly savor.
Time spent in front of the TV gives us the opportunity to live vicariously through these fictional characters and allows us to escape from the stupid bullshit we face on a daily basis.
And though the storylines are typically filled with plenty of drama and turmoil, it's the dangerous, exciting and downright dirty moments the characters get themselves into that make their lives seem so interesting and, most importantly, sexy.
Thanks to these award-winning programs, audiences have been able to re-lose their virginities, experience supernatural sexy time in the woods and listen to someone orgasming without being touched.
Oh, the things television is capable of!
Here's a roundup of the 10 sexiest TV moments that left all of us feeling extremely satisfied in 2016. Anyone got a cigarette?
10. Michonne and Rick, "The Walking Dead"
Actors: Danai Gurira and Andrew Lincoln Season: 6
Even one of TV's most violent shows can make room for a little on-screen romance. Despite living in a post-apocalyptic zombie world, these two characters proved you truly can find love — or at least a quickie — in a hopeless place.
9. Nancy and Steve, "Stranger Things"
Actors: Natalia Dyer and Joe Keery Season: 1
Oh, so there's an otherworldly Demogorgon parading around outside your house and devouring your friends? Who cares!
In typical horror fashion, these two teenagers decide to strip down in the middle of an invading monster attack. It doesn't even matter that the clip above is in French... it's just so goddamn hot.
8. Jane and Michael, "Jane the Virgin"
Actors: Gina Rodriguez and Brett Dier Season: 3
You can just refer to her as Jane now.
The show's titular character is another woman on this list to finally swipe that V-card (and film a sex tape... that she sent to her teacher... by accident).
While the actual romp isn't exactly shown on-screen, the cartoon depiction with a rocket ship is pretty spot on. Plus, after three long seasons, it's about time Jane got. It. On.
7. Penny and Kady, "The Magicians"
Actors: Jade Tailor and Arjun Gupta Season: 1
Guys, they're floating — FUCKING FLOATING. The very first episode of "The Magicians" proves that magic sex is clearly the best kind of sex to be having. I bet they didn't allow this kind of stuff in Hogwarts.
6. Scathach and Matt, "American Horror Story: Roanoke"
Actors: Lady Gaga and Cuba Gooding Jr. Season: 6
Sure, sex could be visceral and emotionally charged, but sometimes, it can also just be downright weird.
In the mind of "AHS" creator Ryan Murphy, he found it best to place two characters — a devoted husband and a crazy witch supreme — on top of each other in a forest doing the humpty hump.
Talk about a "Bad Romance," am I right, guys?
 5. Morello and Vince, "Orange Is the New Black"
Actors: Yael Stone and John Magaro Season: 4
Prison inmates don't always have the luxury of being touched by their partners, so it's a little dirty talk (and some believable moaning) that manages to get Morello off in a room full of people. Clean up on aisle 9!
4. Jude and Zero, "Hit the Floor"
Actors: Brent Antonello and Adam Senn Season: 2
One of TV's sexiest same sex pairings has since made their way out of the closet... and into the shower. Smoking hot and environmentally-friendly (you know, saving water and all)? Is there room for a third in there?
3. Misty and Luke, "Luke Cage"
Actors: Simone Missick and Mike Colter Season: 1
Even superheroes like Luke Cage need a little saving sometimes. For someone known for his incredible strength, Marvel's macho man is powerless against the purring of detective Misty Knight.
2. Michaela and Asher, "How To Get Away With Murder"
Actors: Aja Naomi King and Matt McGorry Season: 2
Why do they allow locks on communal public bathrooms? Well, for reasons like this one.
Nobody could've guessed that two seasons worth of sarcasm between two characters would lead to one of the series' hottest hookups.
1. Maeve and Hector, "Westworld"
Actors: Thandie Newton and Rodrigo Santoro Season: 1
Hell-bent on escaping the park's border after discovering she is, in fact, a robot, Maeve (also known as the best character on "Westworld") takes part in the hottest sex scene on television this year — literally.
Encased in a fiery tent, the brothel madame decides banging it out is the best plan of attack to achieve release.
Don't try this one at home, kids.