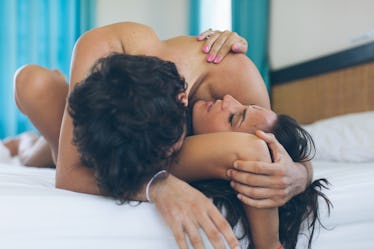 Here's What You Should Know About Not Using Condoms In A Relationship
Unprotected sex *always* has risks.
Deciding to stop using condoms with your partner is a huge decision that should not be taken lightly. While there are a lot of risks associated with forgoing barrier protection, there may come a time when the two of you decide together that you are ready to take this step. Not using condoms in a relationship can be safe if done properly, but there are still a few risk factors to take into account. Sex changes after you stop using condoms, after all, and before you decide to go raw, you should be aware of those changes.
If you're using an alternate method of birth control, such as a birth control pill or IUD, then a condom may seem unnecessary for preventing pregnancy. However, condoms are the best way to reduce your risk of sexually transmitted infections (STIs). Even if you're in a monogamous sexual relationship where you've both been tested recently, there is still a greater risk involved when you decide to forgo barrier contraception.
And while it's commonly believed that condom-less sex is "more intimate," as there is no physical barrier between you and your partner, Good Clean Love founder and psychosexual therapist Wendy Strgar previously told Elite Daily that intimacy often has more to do with feeling protected than feeling physically connected. "Feeling safe when we have sex is a huge element of being able to let go and relax into the experience," she said. "Agreeing on what that safety means to both people in the couple builds confidence."
If you and your partner make a mutual decision to say goodbye to condoms, then here's how sex may change for you two.
Every couple must decide for themselves whether they're comfortable forgoing condoms, but if you're only doing it because it's what your partner wants, then you probably want to reconsider the risks.
Experts:
Wendy Strgar, Good Clean Love founder and psychosexual therapist
Dr. Sherry A. Ross, women's health expert and author of She-ology: The Definitive Guide to Women's Intimate Health. Period.
Dr. Laura Alsina-Sanchez, OB-GYN at Partners in Women's Health
Dr. Tristan Emily Bickman, board certified OB-GYN
Kelly J. Connell, M.S. Ed. and sexuality expert for My First Blush
Kayla Lords, sex writer and sexpert
Editor's Note: This story has been updated by Elite Daily Staff.
This article was originally published on