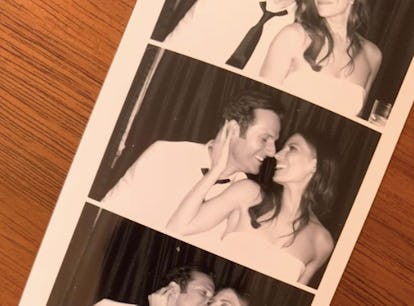 Sarah Levy And Graham Outerbridge's Relationship Timeline Is A Whirlwind
They're full of surprises.
On Oct. 16, 2021, Sarah Levy and Graham Outerbridge — the actors best known for their roles in Schitt's Creek and Agents of S.H.I.E.L.D., respectively — tied the knot. In an intimate ceremony at the Sunset Tower Hotel in West Hollywood, CA, the two celebrated their nuptials surrounded by close family and friends, reported Page Six. It came as a pleasant surprise to fans of the couple, many of whom didn't even realize they were engaged. Which begs the question: What does Sarah Levy and Graham Outerbridge's relationship timeline look like? And how did this adorable couple come to be? Let's discuss.
In case you're unfamiliar, Sarah is one-fourth of the incomparable Levy family. She played Twyla Sands, the cheerfully hilarious waitress on Schitt's Creek. Her brother is Dan Levy (star of many a gif; creator of Schitt's Creek, where he played David Rose) and her father is Eugene Levy (creator of Schitt's Creek, where he and his trademark eyebrows played Johnny Rose; also played the dad in American Pie). Shortly after his sister's wedding, Dan shared a very cute picture on Instagram of himself belting "S Club Party" with Sarah (the bride!), while she Instagrammed photo-booth photos with her new husband, captioned "Bells are ringing ✨✨10.16.2021."
Though he's not known for his eyebrows or time on Schitt's Creek, Graham Outerbridge is also in ~the biz.~ He's an actor, producer, and director, having worked on projects like The Britishes and Agents of S.H.I.E.L.D. We don't know a whole lot about his relationship with Sarah — as the pair are relatively private — but he has touted his adoration for her on several Instagrammable occasions.
Here's what we know about Sarah and Graham's relationship to date.
Sarah And Graham Become Insta-Official In July 2019
The couple made their Instagram debut on July 9, 2019, when Sarah shared a picture with her arms around Graham while the two vacationed in Italy.
But technically (technically!), this wasn't their first picture together. The day before, on July 8, both Sarah and Graham reposted the same group pic with legend Elton John (though they're seen at opposite ends of the photo).
Graham Celebrated Sarah's Birthday And Emmy's Appearance In September 2019
A few months later, Graham posted a precious selfie in celebration of Sarah's birthday on Sept. 10, 2019. The caption read, "Happy Birthday @sarahplevy - I love you so much and let's be honest, how lucky am I that you chose me? Love you sweet lady!"
Less than two weeks after that, Graham posted another snap — this time of Sarah striking a pose on the red carpet at the Emmy Awards. "I'm probably in trouble for posting this, but whatever - so proud of this beautiful and talented woman who is repping at the Emmy's tonight," he wrote. "Love you honey!!"
Sarah And Graham Attended The SAG Awards Afterparty In January 2020
On Jan. 19, 2020 — just after Schitt's Creek snagged the award for "Best Ensemble in a Comedy Series" at the SAG Awards — Sarah and Graham danced the night away at the afterparty (which they attended with the entire Levy fam). Sarah posted a video montage of them boogieing on Instagram the next day, captioned, "After partying 🥂."
Graham Marked The Schitt's Creek Finale In April 2020
On April 7 — the dreaded day that Schitt's Creek came to an end — Graham posted a photo of Sarah in character as Twyla.
"Words can't describe how proud I am of this wonderful woman," he wrote. "She's the most talented and graceful person I've met, and I'm luckier than I could ever imagine! I love you @sarahplevy ! Twyla was such a gift!" Truer words, Graham!
Sarah Celebrated Graham's Birthday In August 2020
In another delightful birthday post, Sarah celebrated Graham's birthday on Aug. 10, 2020.
"Happy happy happiest birthday to the best dang partner a girl could ever ask for," Sarah wrote to Graham. "Guess I did something right in a past life. 💕"
Also, I may be grasping for straws, but it looks like there could be a ring on *that* finger in the selfie she shared, suggesting that the pair could have gotten engaged sometime in 2020.
Sarah And Graham Watched The Emmys in September 2020
As Schitt's Creek cleaned! up! virtually every category at the Emmy Awards in 2020 — winning a record-setting nine awards — Graham filmed (and, bless him, shared) several videos of Sarah reacting to each win with what can only be described as unadulterated glee. Curiously, HuffPost referred to Graham as "Sarah Levy's fiance" in their coverage of the videos (though the pair, at that point, had not publicly announced an engagement).
Sarah And Graham Wed In October 2021
Without ever having announced their engagement (though some fans did spot that Dan had shared his sister's wedding plans a few days early in an Instagram story), Sarah and Graham got married on Oct. 16. Sarah, as we know, posted a photo of the happy couple two days after saying "I do," while Graham reposted several Instagram stories of the couple's first dance to "Heavenly Love" on Oct. 17. On Nov. 1, he also offered a sneak peek at their wedding photos, with a pic captioned, "Happiest day of my life. 10.16.2021."
In the words of Alexis Rose, "You know those days when you're just like super in love?" We have a feeling that's every day for Graham and Sarah. Congrats, lovebirds!