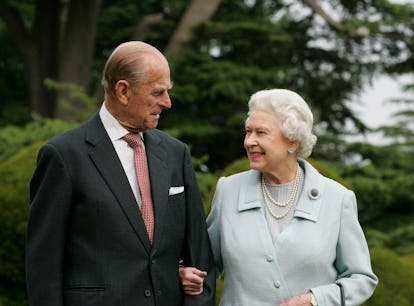 Queen Elizabeth And Prince Philip's Relationship Spanned 82 Years
They had a love for the ages.
Tim Graham/Getty Images News/Getty Images
Queen Elizabeth II didn't just have the title of longest-ruling British monarch (having been the queen for nearly 70 years) — she also had the longest marriage of any British royal. She and Prince Philip, Duke of Edinburgh, were married for over 73 years, surpassing the marriage of former record holders, King George III and Queen Charlotte, by well over a decade. And believe it or not, Queen Elizabeth and Prince Philip's relationship timeline actually began long before their wedding day. In total, it spanned 82 years. Their love story was truly epic.
On April 9, 2021, the Palace confirmed Prince Philip's death at the age of 99. The longest-serving royal consort in British history left behind four children, eight grandchildren, 1210 great-grandchildren, and — of course — his devoted wife, whom he first met when he was just 13 years old. Though the two reportedly had their ups and downs over the years (because what else would you expect from two people who spent more than eight decades together?), their partnership will certainly go down in royal history. Here are just some of the highlights from their legendary relationship, which first began all the way back in 1939.