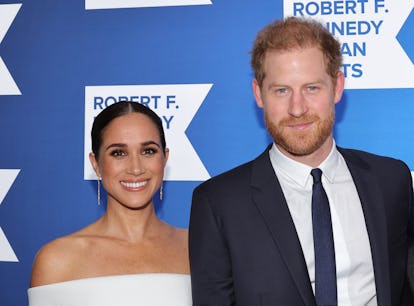 Harry & Meghan's Astrological Compatibility Is All About Balance & Romance
Those Venus-ruled moon signs are everything.
Mike Coppola/Getty Images Entertainment/Getty Images
Prince Harry and Meghan Markle's relationship has had its fair share of challenges. From falling in love in 2016 to stepping back from the royal family in 2020, it hasn't been the simplest fairytale. Through it all, however, the couple has managed to support each other, keeping a united front again and again. It's clear that the couple has something special — fortunately, Netflix's Harry & Meghan, coming on Dec. 8, promises to share more details of their love story. But even without a docuseries, a closer look at Harry and Meghan's astrological compatibility reveals why they work so well together.
Harry was born September 15, making him a Virgo, and Markle was born August 4, making her a Leo. Though these two signs aren't the most compatible on the surface — earth and fire signs often don't mix — the rest of Harry and Meghan's birth charts give their pairing the stability it needs to flourish. The couple's rising signs help them learn from each other, while their moon signs keep romance in the air.
Although Harry and Meghan's zodiac signs aren't the picture of astrological compatibility, it's clear they've aced the challenges of long-term partnership. With two children and a charitable foundation, this couple is proof that the stars don't determine everything — even if their Venus-ruled moon signs have given them an extra boost. Ahead, all the details on Harry and Meghan's zodiac sign compatibility.
Source:
Chelsea Jackson, astrologer
This article was originally published on