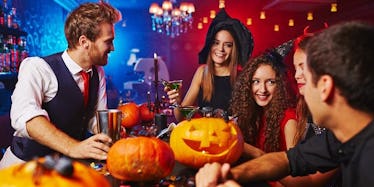 6 Original Couples' Costume Ideas For The Couple Who Really Wants To Stand Out
pressmaster/Fotolia
Happy "time to plan what to be for Halloween" season — the best part of the year! It's the season where you only have one thing on your mind: to have the best and most creative costume on Halloween, so your Instagram pics get a lot of likes. But if you're dressing up with a significant other, this task gets even harder. One thing is for sure, though. You're definitely going to need some original couples' costume ideas so that you can stand out from everyone else at the party.
Let me tell you what every couple at all the Halloween parties you go to will be dressed like. You'll have your Wes Anderson couples, or your Game of Thrones couples. Maybe couples dressed up as Betty and Jughead from Riverdale or as Sandy and Danny from Grease. You'll have a hot couple dressed up as Hugh Hefner and a Playboy bunny, and a funny couple dressed up like pizza. You don't want to be one of those couples. You want to be something creative and special — something no one else will be.
So here are six original couples' costume ideas for the couple who really wants to stand out. I want you to be getting compliments all night long.
For Halloween, why not dress up as one of your favorite things to do as a couple? Everyone loves a little wine and cheese night with their boo. (Except for me, because I don't drink, and I'm lactose intolerant, but either way, this costume is cute.) Plus, it gives you a reason to bring wine to any party you go to and drink it directly out of the bottle. And if you want, you can carry around a hunk of brie and eat it, too, Liz Lemon style.
Are you and your significant other artsy? Do you frequent museums and know the difference between a Picasso and a Lichtenstein? If so, then this is definitely the Halloween costume for you guys. Plus, this will really allow you to show off your makeup skills. In fact, that's one of the most important aspects of the outfit.
If you know you need a little help in the makeup department, though, you can watch a pop art makeup tutorial here:
Will USB-mine? In this digital era, dress as a product that we use, in some capacity, almost every single day. Then, at the end of the night, you can always ask your date if they want to stick their USB in your port. Just be careful not to get a virus.
People will get some real kicks out of this costume. LOL. Anyway. Prove to everyone that you and your partner are a great pair by dressing up as a literal pair of shoes for Halloween. Great for any couple with a foot or shoe fetish.
Can't forget about any non-traditional couples out there! For any groups of three who want to dress up together on Halloween, this Rock, Paper, Scissors costume is a great idea. And if you get into any fights during the night, you can always play a game of Rock, Paper, Scissors to settle the score.
If you and your partner keep flip flopping on your relationship status, then why not dress up as a pair of literal flip flops for Halloween? It might send your significant other a subliminal message that it's time to make a decision when it comes to your relationship. Plus, if you're sick of all those costumes that are overly revealing, this outfit is a great alternative.
Do you have any ideas for original couples costumes for Halloween? Let me know in the comments!
Check out the entire Gen Why series and other videos on Facebook and the Bustle app across Apple TV, Roku, and Amazon Fire TV.
Check out the "Best of Elite Daily" stream in the Bustle App for more stories just like this!