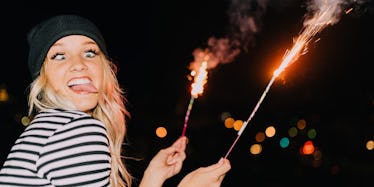 New Year's Eve Ideas For The Single Girl Who Doesn't Want To Go Out
Chelsea Victoria
Does anything feel better than canceling plans? I mean, really? How wonderful it is to not want to go to an event... and then... NOT GO to that event.
This New Year's Eve, follow your heart, especially if you're a single girl and aren't tied to a significant other's hopes and dreams for the evening.
Your possibilities, lady, are endless.
Here are some great alternatives to going out on the last night of this horrendous year:
Do not neglect the possibility of going to sleep early.
Nowhere to be? Nothing to do? No work in the morning? This literally NEVER happens at any other point in the year.
Take a Benadryl, and sleep away all the shitty stress of the past 365 days.
Sleep for eight hours. Hell, sleep for 15 hours for all I care and wake up a beautiful baby butterfly in the New Year.
Take a Benadryl, and sleep away all the shitty stress of the past 365 days.
Pick your favorite trash movies and binge-watch them.
If you're spending the night in, might as well make it special. Gather up your favorite horrible childhood movies or trash TV shows, order some Dominos and have yourself a damn party, sister.
Re-watch that scene in "A Walk To Remember" where Mandy Moore stands on a state boarder and "is in two places at once" as much as you want. Watch Tyra Banks play a life-size barbie in "Life Size" until the cows come home.
Knock yourself out, you filthy animal.
Masturbate.
Seriously. 2017, here you cum! (SORRRRYYYYY).
Make it a health day.
Most people wait until January 2 to jumpstart their new fitness and health resolutions. Why not get ahead the of the curve and make December 31 all about your body, girl?!
When you wake up in the morning, put on your favorite workout gear and work up a good sweat. Get some cardio or yoga in, and MOVE that winter body.
In the afternoon, eat a healthy lunch and treat yourself to a little pampering. Head to your spa for a facial and massage, or get a mani/pedi.
However you decide to spend your day, make sure it all is with the purpose of serving your physical or mental health.
Volunteer.
I believe in karma, and what better way to ensure 2017 brings you positive mojo than to put some positive mojo out into the universe?
Do some quick Googling and look up local soup kitchens or community centers that may be having their own New Year's Eve events.
If that isn't for you, look for other ways you can donate your time and services. Maybe spend the night cleaning out your closet and packing up all your un-worn clothing for Good Will. Or simply babysit a neighbor's kid.
There really are few things more valuable and precious than giving our time to other people.
Throw a game night at your own place.
If you don't want to make the effort to GO to the party, bring the party to you!
Gather up your favorite pals and source some awesome board games. Have everyone arrive early so you have plenty of time to get a few good rounds of Uno (or ONE round of Monopoly) in before the stroke of midnight.
If you're feeling really festive, decorate, theme your foods and hand out prizes to winners!
Get organized.
Set yourself up for success this year. Pull out the ol' pencil and paper, and make a list of everything you accomplished this past year, as well as everything you want to accomplish in the year to come.
If you're like me, maybe you benefit from pros and cons lists, or perhaps your prefer big "To-Do" lists or maybe simply emptying the trash in your email may give you an overwhelming sense of freedom and accomplishment.
Whatever your organizational style may be, take today to get all the kinks worked out and gear up for a great start come January 1.
Plan a big trip for the new year.
I don't know about you, but I've always felt that New Year's Eve suffers from ACS (anti-climatic syndrome), where the night itself is never as "omg amazing" as I want it to be and then it's over.
It can be hard to get pumped for the rest of winter now that the holiday season is over.
To fight it, get yourself jazzed for the year ahead by booking a flight to somewhere amazing, even if it's months away.
By putting something exciting on your calendar before the new year starts, you're subconsciously setting yourself up to look forward to the year ahead.
More than anything, do you, boo boo.
Take this special day and night for yourself — whatever that looks like — and be sure to send off 2016 with whatever kind of bang your heart desires.
Be safe. Have Fun. Happy New Year!