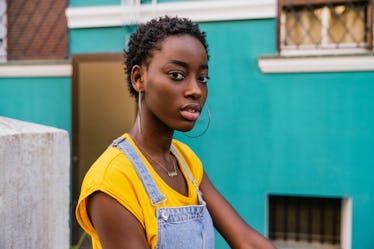 What To Do If Your Parents Dislike Your Partner, According To 7 People
It's def an awkward situation.
by Candice Jalili and Isabel Calkins
KoldoyChris/Moment/Getty Images
Let's say you meet the person of your dreams. The two of you hit it off, you start dating, and things go so incredibly well that eventually, you decide to introduce them to your parents. Unfortunately, when this big introduction happens, your parents are less than impressed and as you leave, the only thing you can think about is, "My mom doesn't like my boyfriend, does she?" But you love your new boo, so... WTF are you supposed to do? How do you proceed after realizing, "My parents don't like my boyfriend," or, "My parents don't like my girlfriend"?
According to Jessica Small, MA, LMFT, a licensed marriage and family therapist with Growing Self Counseling and Coaching, it can be incredibly draining and emotional when your parents don't like your new partner. But it doesn't mean your relationship is doomed. "It is important to remember that the only thing you have control over is yourself, not your parents, or your partner. Keeping this in mind, consider what the actual solvable problems are and begin to solve them," she tells Elite Daily.
But how do you actually do that? According to Small, it may help to set boundaries with your parents in order to protect both your partner and your relationship. "Often, one of the developmental tasks of beginning our own family is moving our partner into the primary position in our life which requires us to reorganize our parents into a secondary position," she explains. "If your parents dislike your partner, it may require more clarity and distance in order to successfully make this transition. It is both your right and responsibility to set the ground rules for how your parents interact with and talk about your partner."
If you're curious how this has actually played out IRL, here's some advice from Reddit users who have experienced tension between their parents and their partners themselves.
Just remember that, at the end of the day, it's your life and ultimately your decision. Consider your parents' advice, but do what feels right to you in the end.
Expert:
Jessica Small, MA, LMFT, licensed marriage and family therapist at Growing Self Counseling and Coaching
Editor's Note: This story has been updated by Elite Daily Staff.
This article was originally published on