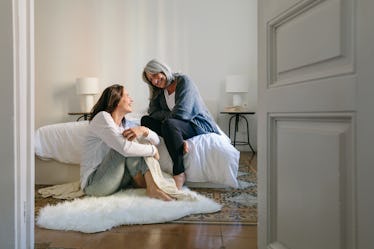 3 Healthy Boundaries To Set With Your Parents When It Comes To Your Love Life
Having parents who love you and want the best for you is a gift that not everyone gets, which is why standing up to them during conflicts (even when they're coming from a place of genuine concern) can be pretty difficult. Your parents stepping out of the driver's seat is essential in making sure you have a healthy relationship with them throughout adulthood, and this is especially true when it comes to your dating life. But boundaries to set with your parents about dating may vary depending on the personalities and character traits of everyone involved.
No one's perfect, and naturally, the same can be said of parents. However, once you're an adult, it's time for them to realize that the people you choose to surround yourself with is completely your call. And while they may think that they have your best interests at heart, their lack of trust can start to take a major toll on your relationship with them. It's easy to assume that their wisdom outweighs yours, but the truth is that no one knows you better than you know yourself. Therefore, who could possibly be a more qualified person to choose the ideal partner for yourself, than you?
I spoke with psychologist and romantic getaway leader, Dr. Wyatt Fisher and NYC relationship expert Susan Winter to get their takes on healthy dating boundaries you should set between you and your parents.