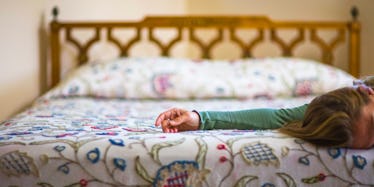 How To Move On After Breaking Up With An SO Who Cheated On You
Raymond Forbes LLC
There is no way around it — being cheated on sucks.
Beyond feeling betrayed, cheating can have a pretty negative domino effect, poking at insecurities and leaving you feeling lonely, used or crazy.
Here is the good part: Those feelings are not forever. And here is the best part: You are better off without a person who cheats on you anyway! So congratulations. You are already on your way to finding real love again.
If you're still stuck on your ex after your relationship has ended, here's how to move on after they cheated:
"What's worse, lookin' jealous or crazy?"
After someone cheats on you, you're likely going to question a lot of things you never worried about before.
Did you make up all the fun times you had together in your head? Did they ever mean it when they said they loved you? Did everyone KNOW and you were just too stupid to see it? Here is the hard truth: It doesn't matter.
Your reality is real to you, and for those reasons, you can't discount the good times because they WERE good times. You aren't stupid for thinking they loved you because they told you they loved you.
And listen to me when I tell you IT DOES NOT MATTER WHAT OTHER PEOPLE THINK. It just doesn't.
Unfortunately, there is no easy way to adopt this attitude or turn off the worry, but you have to try.
Remember, you are entitled to living a life full of trust, hope and optimism, and it isn't your job to plan for the worst. Being cheated on has nothing to do with who you are and everything to do with the person who cheated.
"If you wanna be my lover, you gotta get with my friends."
Now is the best time to reconnect with old friends.
Obviously, it's totally normal to go a little MIA in your other friendships when entering a serious relationship. The good news is, friends are friends because they're there for you when bad things happen.
If you aren't sure who to reach out to, just be honest. Find someone you've counted on in the past and say, "I'm embarrassed and sad, and I don't know who I can lean on right now. If it's OK with you, I'd really like to hang out."
Only an asshole won't respond to honesty. And if they shoot you down, good news again: You know you don't need that person in your life either.
A good rule is to hang close to people who don't make you feel like shit for existing and feeling normal things.
"Shine bright like a diamond."
It might take some late nights with cheap wine, rom-coms and Chinese takeout, but never forget, at the end of the road, there is always more road.
You're definitely going to get through this, and it doesn't have to destroy your trust in loving again or shatter your self-esteem.
Remember, the person who cheated on you is a jerk (yes, even if they are "like, a really good guy who didn't mean it"). They had other options, and they chose to cheat on you. You are better off without that kind of person in your life.
Try to take this time to focus inward. Remind yourself of the things you used to enjoy before meeting this person and do those things again.
If a place, song, food or smell reminds you of this person, avoid it. Nothing good will come from hanging on to past, ugly relationships.
You are a bright, shiny diamond in a sea of pebbles and rocks, and you deserve someone who will treat you like the precious person you are. Go glow. You're going to be OK.