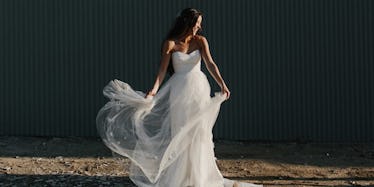 Guys Reveal Their Favorite Style Of Wedding Dress They Hope Their Fiancée Wears
I was scrolling through old photos on my phone the other day in the presence of my boyfriend, whom I've been dating for a year and have talked about marriage with casually.
All of a sudden, I discovered a photo I thought I deleted — or at least uploaded onto my computer and saved it in a folder called "embarrassing stuff I hope nobody sees." But there I was in the photo, standing up tall in a wedding dress.
I've never been engaged before, but I have, of course, imagined what my dream wedding dress would look like.
The very first time I was a bridesmaid, I went to pick up my bridesmaid dress from a bridal shop in my town. My mom was with me, and we spotted this gorgeous wedding dress that made my heart race and my eyes bulge. I was super single then, but my mom made me try it on, and I did.
When I showed my boyfriend the picture of me in my dream wedding dress, he kindly said, "I don't love it."
This statement was equal parts annoying, but equal parts good to hear because it saved me the expensive hassle of buying a $3,500 dress that he'd see on our potential wedding day and not feel crazy about.
That experience got me thinking about what kinds of dresses guys imagine their bride-to-be will wear on their wedding day. Here is commentary from six guys on what they hope their fiancée will wear on the big day:
1. Mermaid style
I know nothing about wedding dresses, but I hear the girls in my life (my fiancé, my mom, my sister and my friends at work) talk about how mermaid-shaped dresses are in style. I hope my bride wears one like that, since they are super popular, I just hope she doesn't have a mermaid tail or something where she can't walk. That would be so weird if that is what the style is.
— Kyle B., 27
2. Something sexy
I don't care what style of dress or where she gets it — or even how much it is — as long as it is sexy. I'm talking like the kind of dress she'd wear to the club. I want a hot bride, not a traditional, boring-looking one. I don't care that it's a formal event with family there. I want her looking smoking hot, so the other guys there think, 'Damn, I wish she was coming home with me.'
— Ray F., 23
3. Crop top
We are having a beach wedding and I'd love it if she wore something laid back and not formal. I'd say a white bathing suit, but I'm not dumb. I want her to look gorgeous, not slutty. I'd say a dress that's a skirt with a top would cool — like those crop top things. I have no idea what I'm talking about.
— Mike R., 31
4. Nothing princess-y
I'm a guy, so how the hell would I know what kind of dress she should wear? I can say this: I hope it doesn't make her look like a Disney princess. Some girls like dresses that are massive and puffy, but I'm so not into that. I keep hinting to her not to pick a dress that makes her look like a kid at her Bat Mitzvah because that's super unattractive.
— Brendan W., 26
5. See-through lace
I'd love for my fiancé to wear something flattering but also kind of sexy. I like lace dresses. I don't know how to describe it, but I think it's really cool to have a dress that teases the eyes a little with lace and see-through material.
— Adam C., 31
6. Body-hugging
I'm not into that princess look. I want her to be in something hip-hugging — I don't care if she can't dance in it. She is 26 and has a hot body. I want her to look her age and be mind-blowingly hot to everyone else. She has the body for something sexy, so why shouldn't she wear that?
— Chris Z., 28