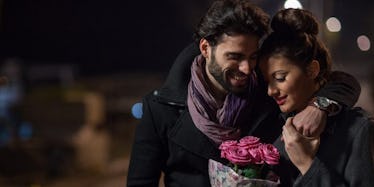 Men Admit The Unrealistic Expectations You Have About Dating And It's Pretty Spot On
Look, it's not women's fault that pretty much all mainstream media has taught us all we need to do to find true love is sit at a bar on a rainy night, and in should walk a talk, dark, mysterious, semi-damaged but totally lovable stranger to sweep us off our feet.
MEN, GET WITH THE PROGRAM. WE'RE WAITING.
Well, one Reddit user asked men what some of the unrealistic expectations women have when it comes to dating are, and these guys did not hold back.
TBH, though, their responses are kind of fair and probably a lot more accurate than us ladies would like to admit.
Take a look and see if you have any of these expectations for the guy in your life.
This guy thinks all women anticipate their own fantastical "fairy tale moment."
This guy wants women to know being in love won't fix all of their problems.
These guys think a lot of us are too preoccupied with the tall, dark, handsome and RICH men.
This guy thinks women have an outrageous set of standards when it comes to romance.
These guys feel not all women understand a relationship requires effort from BOTH people.
This guy thinks girls need to get better at rolling with the punches.
Some guys feel like women can be too clingy too quickly.
At the end of the day, we shouldn't expect guys to have any clue how dating works in general, according to this guy.
Ladies, do as Kim K once said: "Let go and let God."
And by that I mean, let's drop the BS and get over ourselves. Your "Prince Regular Guy Who Loves You Very Much" is out there, and you will miss him if you don't pay attention!