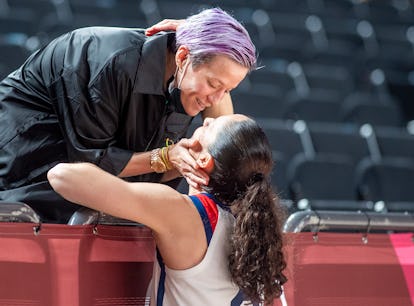 Megan Rapinoe And Sue Bird's Relationship Timeline Is Actual Goals
Seriously, these Olympians are a golden pairing.
Tim Clayton - Corbis/Corbis Sport/Getty Images
Is anything more charming than watching two Olympians embrace after snagging medals? "No!" shout Megan Rapinoe- and Sue Bird-adoring fans everywhere. "No there is not!" If you're just getting into this iconic (and athletic) duo's romance, I'll spare you the condescending, "I liked them before they were cool" spiel and just welcome you to the party. And if you aren't already fans of this queer athlete power couple, a brief look at Megan Rapino and Sue Bird's relationship timeline will leave you on the floor in a pile of your own happy tears — I promise.
Brief refresher: 36-year-old Megan Rapinoe is a co-captain of the U.S. Women's National Team (USWNT), a captain of the Seattle Reign, and an Olympic medalist. Her fiancée, 40-year-old Sue Bird, is a WNBA champion from the Seattle Storm and also an Olympic medalist. (And yes, both women snagged a few more medals in Tokyo. Because of course they did.) If that's not impressive enough for you, they're also incredibly politically active. The two have openly advocated for equal pay and LGBTQIA+ rights, and have spoken out against police brutality.
In a classic girl-meets-girl, girl-falls-in-love-with-girl, girls-continue-to-win-both-national-and-international-sport-championships (plural) fashion, Rapinoe and Bird have a found a love that's both a goal and a slam dunk in one.
In conclusion: Megan Rapinoe and Sue Bird are Olympic gold medalists. They also happen to be women, who happen to be gay, who happened to have found each other, thus creating possibly the greatest sporty love story of all time. All I can say is, when it comes to the game of love, Megan Rapinoe and Sue Bird can't stop winning.
This article was originally published on