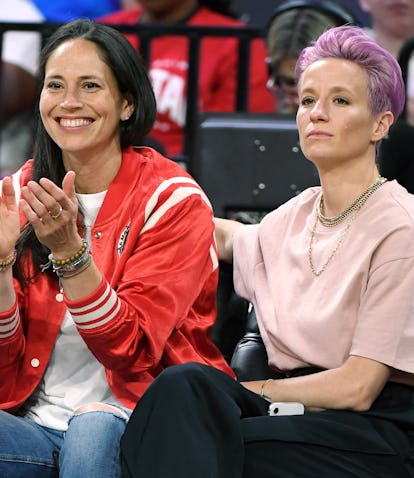 Megan Rapinoe Said The Sweetest Thing About Sue Bird Being Team USA's Flag Bearer
My heart is about to burst.
Ethan Miller/Getty Images Sport/Getty Images
The 2021 Olympics kicked off on Friday, July 23, in Tokyo, Japan. One of the most heartwarming moments of the opening ceremony was hearing soccer star Megan Rapinoe give a shoutout to her fiancée, basketball legend Sue Bird, who was a flag bearer for the United States alongside baseball player Eddy Alvarez. It was the first time that Team USA had two flag bearers, following a recent policy change from the International Olympic Committee that permitted one female and one male to participate as a means of promoting gender equity. Megan Rapinoe's comments about Sue Bird flag-bearing for Team USA were so sweet.
Rapinoe and Bird began dating sometime after they met at the 2016 Olympics. After four years of being together, the couple announced in October 2020 that they were engaged. When news came out that both athletes qualified for the 2021 Olympics in June, fans were overjoyed they would see the two compete in Tokyo and hopefully interact during the opening ceremony. However, ahead of the Olympics on July 23, the International Olympic Committee announced the number of athletes marching in the Parade of Nations would be greatly reduced.
While fans didn't get to see Bird and Rapinoe actually together during the ceremony, they still got a sweet moment between the couple. While Bird was on TV carrying the flag, NBC interviewed Rapinoe on TV to ask her about her fiancée's reaction to finding out she would be a flag bearer. "She told me on text, she heard at practice," Rapinoe recalled. "In typical Sue fashion she was very low-key about it but I did see the video when [Diana Taurasi] told her and I think that says it all, unlike me, she doesn't like a lot of the attention but I think you could tell in that moment just how much it meant to her."
"Obviously, she's a five-time Olympian going for her fifth gold medal, I get to see just how much that means to her and how much she puts into it," Rapinoe continued. "I know this means the world to her and I couldn't be prouder and happier. And I feel I get to share in it even though I'm not deserving enough to be the flag bearer."
Hear Rapinoe's comments about Bird flag-bearing for Team USA below.
According to USA Today, Bird said in a July 21 statement she was honored to be the flag bearer. "I know this isn't about me. This is about all the players who either came before me and set the tone for what the USA Basketball women's program is now and also the players that I've been fortunate enough to play with. So, it's not just about me. It's representing all of them," she said.
Bird and Rapinoe are total relationship goals and fans can't wait to see their success at the Olympics this year!