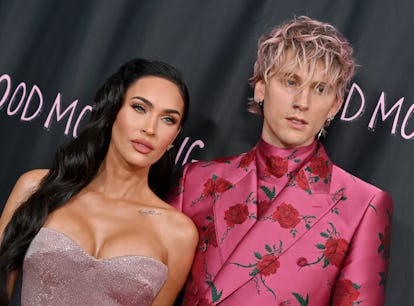 Here's A Pic Of MGK And Megan's Matching Ring Finger Tattoos
Well, they managed to surprise me.
Axelle/Bauer-Griffin/FilmMagic/Getty Images
If there's one thing I know for sure, it's that Megan Fox and Machine Gun Kelly love to keep people on their toes. And if you thought Megan "manifesting" her partner when she was — *checks notes* — 4 years old was a lot, you might want to take a moment before reading this next part. Megan and MGK celebrated her 36th birthday by inking matching tattoos on their ring fingers. And no, they didn't choose a classic design like flames (have you heard they're twin flames?) or a ring of thorns (IDK that just feels like something they'd do). Instead, Megan and MGK opted for a pair of Voodoo doll tattoos. Go figure.
Taking to Instagram on May 16, MGK posted a carousel of pictures to celebrate Megan's birthday. He wrote, "wishing the happiest birthday to my ethereal light being. i love you maki." According to Dictionary.com, "maki" is "cold boiled rice moistened with rice vinegar, formed around strips of vegetable or raw fish into a cylindrical seaweed-wrapped roll that is sliced into bite-size pieces." So... not the most romantic nickname in the world. Just wait, the interesting choices don't stop there. MGK also revealed his and Megan's matching tattoos in all their surprising glory.
Voodoo (also called Vodou) is a common religion in the Caribbean, but there's a lot of misconceptions around the practice — especially when it comes to Voodoo dolls. Per Learn Religion, "Vodou dolls are used to help people with healing and as a way to communicate with deceased loved ones." Generally speaking, they're not made to set curses or be vengeful. Wondering what Voodoo dolls have to do with the couple? It does seem like Megan and MGK have Voodoo dolls of each other. In this same IG post, MGK included a photo of the dolls in question.
Notably, both dolls have pins in the same places: the crotch, the heart, and the head. I'd be lying if I said I knew exactly what this meant, but according to Learn Religions, centuries ago, "in Egypt, dolls were made and then a binding curse was performed, sometimes accomplished by poking pins in them." Maybe it's this tradition that Megan and MGK are emulating? And perhaps their pin placements have something to do with how they're bound together?
This isn't the first time the couple has embraced spiritual rituals in their relationship. During an April interview with Glamour UK, Fox explained, "I read tarot cards and I'm into astrology and I'm doing all these metaphysical practices and meditations." Oh, and let's not forget, she added, "[MGK and I] do consume each other's blood on occasion for ritual purposes only." Notably, Voodoo focuses on the blood of animals — not humans.
The couple also took the hallucinogenic ayahuasca during a trip to Costa Rica. This tea is commonly used for ritualistic purposes in Brazilian religions, including Barquinha, Santo Daime, and the União do Vegetal.
It seems like the duo is really up to try anything when it comes to feeling some enlightenment — though a tattoo makes me think Voodoo might be their new favorite ritual exercise.