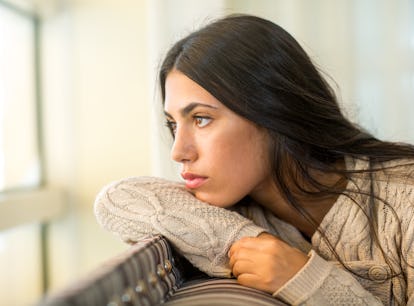 If You Love Someone More Than They Love You, Here's What To Do
As one expert says, "It is not a good decision to settle for emotional crumbs... crumbs can never bake the cake of love."
Shutterstock
I think we can all agree that unrequited love is one of the worst feelings imaginable. The pain of becoming attached to someone in a way that isn't mutual can be so unbelievably traumatizing. The thought of saying "I love you" and hearing crickets in response is crushing. But even if it isn't that obvious of a rejection, any instance of loving someone who doesn't love you back can be painful.
Unrequited love can happen to anyone, but if you start noticing a pattern, it could be more than just bad luck. If it keeps happening, loving someone who doesn't love you could be a sign that you have a romanticized idea of what love looks like. "We are also more likely to experience unrequited love when we have already fallen head-over-heels in love with the 'idea' of being in love," Dr. Tarra Bates-Duford, PhD, Founder, and CEO of Family Matters Counseling Group, told Bustle.
At the end of the day, this kind of situation may have more to do with you than with the object of your affection — it could even be a sign of some relationship anxiety. "Studies conducted on the topic of relationships suggest that people who engage in relationships anxiously are more likely to experience unrequited love than those who go into relationships confidently," Bates-Duford added.
However, this doesn't mean you're doomed to continue to fall for people who won't love you back. By being honest with yourself, you can break this cycle of unrequited love, leaving more room to find people who adore you right back and in the ways you deserve. Trust me — they're out there and they can't wait to meet you.
In order to understand why this is happening to you, or why this cycle continues to repeat itself, there are a few questions to ask yourself when it comes to why you keep falling for people who don't treat you the same.
Experts:
Tarra Bates-Duford, PhD, Founder, and CEO of Family Matters Counseling Group
Alexis Nicole White, relationship expert and author
LeslieBeth Wish, licensed clinical psychotherapist
Samantha Burns, licensed mental health counselor
This article was originally published on