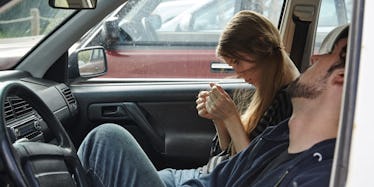 Why Always Looking For Someone Better Is Preventing You From Real Love
Trinette Reed
I invest as much time as I can into my relationships to truly get to know the person I'm seeing.
But just like it's important to be invested in someone in order to experience true, real love, it's also easy to get bored.
I begin to wonder if there are better things out there, if I'm settling or if the grass truly is greener on the other side.
According to behavior economist Dan Ariely, someone in a relationship who constantly envisions what else is out there is essentially putting themselves on a path for disaster in the quest for happiness in their relationship.
Ariely says in a new Google Modern Romance video.
When we're in a relationship but continuously with one foot out and continuously thinking about how the outside world is more tempting and more interesting, it's actually not a good recipe for investing in a relationship. It's not a zero-sum game; [a relationship] gets better when you invest in it.
In other words, as you spend more time with your partner and become more aware of their "annoying" traits and habits, you're more tempted to start swiping on dating apps to see if there are better options out there.
And this spells trouble. Because the other options will appear to be much better.
"When you look at other people, they look more glorious than when you get to know them with all the details," Ariely says.
You're not seeing how these other potential matches snore, are clean freaks or ask a lottttt of questions. Because, as we all know, "In online dating ... people only present their positive sides," Ariely says.
Well, duh! I'm going to put the pictures of me painted in the best light on blast, not things that can scare someone away.
But, once you get to know me, I hope that you like me for me and you'll eventually accept me for my strengths and weaknesses. But if you're too busy looking at all of the better guys out there —instead of investing your effort in our relationship — this would become really hard.
"When you get to know somebody better, they disappoint you in all kinds of ways," Ariely says in the video. And you know what? That's totally natural.
Seriously, no one is perfect.
Getting to know someone's faults and insecurities is the way to build a bond that lasts forever.
Finding those things out about a person shouldn't necessarily put those perfectly curated dating profiles in the front of your brain or make you question who you're with and what you're doing.
While it's completely OK to question your feelings for someone, it doesn't mean you should just up and run away when they do something you don't like. No one likes a quitter.
To reap the benefits of a relationship, you have to invest in it. As Ariely says, you should be learning something new about your partner every day, allowing your relationship to evolve into something even more passionate than it was when it began.
Modern love is hard, but it's most definitely worth it.
Citations: A Behavioral Economist Explains Why You're Unhappily In Love (Huffington Post)