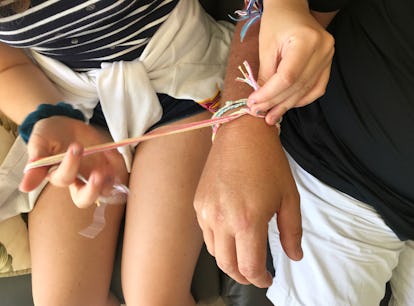 15 Relationship Bracelets To Keep Your Long-Distance Love Alive
Stay connected in style ❤️
Cyndi Monaghan/Moment/Getty Images
When I was younger, there was nothing more epic than wearing matching friendship bracelets with my elementary school BFF. I still remember the dainty plastic half hearts pressed together that spelled "Best Friends Forever," and I was obsessed with the glittery fleck details on the neon pink bracelets. There was something special about letting all of our friends and family know how much we cared about each other — so much that we would wear them every day as a reminder of our friendship as we traipsed around the playground at recess. Now that I'm older, I've translated my same love for matching accessories into relationship bracelets with my significant other.
Call me a sap, but I'm currently in the honeymoon stage with my boyfriend — you know, the butterflies and racing heart phase when you just want to show the whole world what your partner means to you. I'm leaning hard into the romanticism and enjoying our lovey vibes since the feelings are particularly prime right now. Because we're in a long-distance relationship (I'm spending time in Indiana and he lives in California), the way we demonstrate our love feels extra meaningful.
That said, I'm taking a note from my 9-year-old self and using a relationship bracelet as my way to make a statement to my partner wherever I go, near or far. I've rounded up the cutest, most romantic long-distance relationship bracelets to gift your boo that'll express your love.
A relationship is about more than gifts and jewelry, but there's something special about wearing something every day as a reminder of your tenderness towards your partner. Wearing a relationship bracelet to commemorate your long-distance partner will inspire warm, cozy feelings anytime you need it.