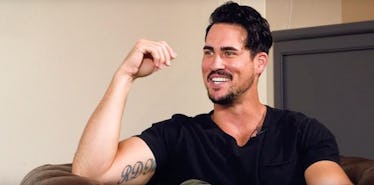 Josh Murray Reveals 4 Traits He's Looking For In A Partner, So Go Find Him On Hinge
Youtube
I was never big on the whole dating app scene when I was single. But hey, maybe that's because I never came across a real-life CELEBRITY on any of the dating apps I was on. Apparently, times are changin', and celebs are all over dating apps.
In particular, the stars of The Bachelor and The Bachelorette are all over Hinge. The dating app boasts some users like previous Bachelorette winner Josh Murray, who thinks the app "is really about finding a relationship." And what does Josh Murray want in a girlfriend whom he's going to be in said relationship with?
Well, luckily for you (if you're interested), Josh dished on exactly what he's looking for — and what he's not looking for — on dating apps in this interview with NYC comedian Jared Freid.
In case you weren't able to watch the video, let me break it down for you: Basically, the key to Josh Murray's heart is a pretty simple four-part process. Here we go.
First and foremost, you've gotta be family oriented.
Our boy Josh made it VERY clear throughout the video that he's all about a girl who loves family. In fact, he brought it up multiple times.
First, he talks about how he's a sucker for a girl who talks about her family on a dating app. Then, he talks about how his girl has to be family-oriented — meaning she has to want kids and has to "be a great mother."
Next, cool it with the party pics.
All right, here's the deal: Josh says he likes to party just as much as the next guy, but is he trying to see the future mother of his children guzzling a bottle of champagne in every single picture ever? Nope, not really.
In the video, he flat out tells Jared, "When I'm trying to find someone, I don't want to see pictures of them partying."
Be nice.
Are you an evil, cold-hearted monster without a nice bone in your body? Unfortunately, that might mean you're not Josh's type.
In the interview, he briefly mentions he's looking for "somebody who's nice to others."
A dog picture is a real deal maker.
All right, ladies, here's the real game winner. Are you really trying to steal Josh Murray's heart? Well, get a picture with a dog on your profile ASAP... or any animal for that matter — but especially dog.
When asked about his reaction to a girl with a dog in one of her pictures, Josh responded, "Sold. Will you marry me right now?" Sounds simple enough, right?
If you're wondering why Josh is on Hinge looking for love, after two failed engagements (one of which was to Andi Dorfman on The Bachelorette), finding something real and everlasting is a priority to Josh. And lucky for him, Hinge is trying to help all of the previous Bachelor and Bachelorette cast members find true love by offering to pay for their weddings — if they meet someone on the app and fall in love, that is.
Here's to hoping Josh and all his other castmates find true love on the app.
Check out the "Best of Elite Daily" stream in the Bustle App for more stories just like this!