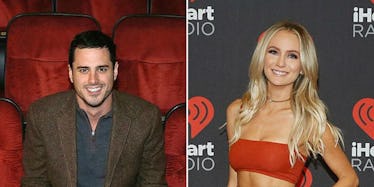 Hinge Will Pay For Former 'Bachelor' Contestants' Weddings If They Find Love On The App
Getty Images
You might have thought that any Bachelor or Bachelorette contestants who didn't find everlasting love on the show would be doomed to wander around single and hopeless like the rest of us.
Well, that just isn't going to happen on Hinge's watch.
On Monday evening, ahead of the premiere of The Bachelorette Season 13, the dating app tweeted out an open letter about their own little ~healthy~ dating competition they're gearing up for.
The letter starts out, "Dear, Bachelor family, It has come to our attention that some of you, well mostly all of you now, are single. Sorry about that." SAVAGE.
They even tagged former Bachelor Ben Higgins, who shocked literally no one with his recent split from fiancée Lauren Bushnell. EVEN MORE SAVAGE.
Basically, in the letter, Hinge told past Bachelor/Bachelorette contestants to sign up for the app, find true love, and if they do, Hinge has actually agreed to pay for the entire wedding.
Honestly, talk about a sweet deal. Hell, I'd marry a rando for 2.5 seconds if it meant I could have an entire party focused on me and stuff my face with wedding cake all night.
Believe it or not, Hinge has already gotten some past contestants on board.
Former Bachelorette winner AND former Bachelor in Paradise contestant Josh Murray was one of the first people to hop on this sweet deal.
Clearly, Josh needs some help in the ~love~ department, considering he split from both former Bachelorette Andi Dorfman and from Amanda Stanton, whom he met on Bachelor in Paradise.
JJ Lane, another former Bachelorette contestant and Bachelor in Paradise star also hopped in on the action.
After JJ tagged him, Jared Haibon let everyone know he's ready to bounce back (and have "a HUGE wedding").
After making it so, so far on Kaitlyn Bristowe's season of The Bachelorette, Jared will have some tough competition for Hinge's offer, especially considering who else he's up against...
Ashley Iaconetti, former Bachelor contestant AND Jared's ex, is ready to beat out Jared in the race to win this wedding.
And it seems like A LOT of Bachelor fans, like, REALLY want these two to get together, especially judging from the comments on this Instagram featuring the two vacationing together:
Will Ashley beat Jared? Will Jared beat Ashley? WILL ASHLEY AND JARED MATCH WITH EACH OTHER ON THE APP AND HAVE A MEGA WEDDING ON HINGE'S DOLLAR LIKE EVERYONE ACTUALLY WANTS? IDK, man. The stakes are high. Anything can happen.
If Ashley's ready to hop on a dating app, though, I guess this might mean Ben Higgins' recent ~outing~ at a Bryan Adams concert with Ashley was just work-related, and not the beginnings of a sweet, sweet rebound, as Ben told Ryan Seacrest he had been "planning a podcast" with Ashley "way before" his split with Lauren.
Interestinggggg.
It'll definitely be fun to see who wins the race to this wedding, and who gets left behind, trapped in dating purgatory like all of us lowly plebeians.
May the shitty odds be ever in your favor, Josh, JJ, Jared, and Ashley.