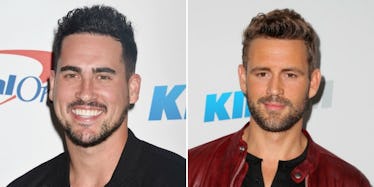 Josh Murray Has A Prediction Of Who Will Win 'The Bachelor' Knowing Nick Viall
REX/Shutterstock
Corinne, Vanessa or Raven?
It seems to be the question on everyone's mind today. At least, everyone I care to interact with.
So, when I had the chance to interview Season 10 "Bachelorette" winner (whom Nick lost to) Josh Murray at Social Spotlight Events' Gifting Suite honoring Girl-Up (a UN Foundation uniting girls to change the world), last weekend, I had to get his take on Nick.
Josh said,
I'm not sure what's going to happen, I can tell you what I probably predict is going to happen, but I don't want to say anything. I know Nick so…
Josh had to stop himself from revealing too much, no matter how hard I tried to get it out of him. A lot of winking was involved.
So, based on that very vague statement and knowing Nick, whom do you think it's going to be? On paper, Vanessa makes the most sense, right? I mean, they physically have a paper that shows them making the most sense together...
Not to mention, Vanessa is more wife material than Corinne and Raven combined, and MUCH more age-appropriate.
(Seriously though, what does a 25- or 24-year-old have in common with a 36-year-old?)
Vanessa also has all the acting experience, so she's trained to be in the public eye, something that seemed to have pushed Ben and Lauren away from each other.
Or at least that's what I gathered from half an episode of "Happily Ever After."
But then, Josh saying he can predict what will happen knowing Nick makes me think it could be Corinne…
I mean, they've both been portrayed as villains on the show so it seems like the perfect twist ending, right?
Then, there's Raven. I just don't see him having as good of a connection with her.
Also, anyone else find it weird we never saw the boutique she allegedly owns in the hometown visit? SUSPECT.
But Josh also admits he hasn't really been watching this season,
I've only watched barely an episode and a half. I've dabbled in and out. I'm very busy so I don't watch that much. But I hope he finds somebody. I hope it works out for him.
Me too, Josh, me too. Let's hope this isn't Nick's fourth time proposing and getting rejected on national television.
Josh has been very busy.
He ended his engagement with Amanda in September. While there have been rumors and cryptic tweets that make it look otherwise, he assured me it was over when I interviewed him.
I haven't dated since I ended things with my last engagement. I kind of want to do me right now and travel around and do the things that for the last three years I really haven't done. It's just been nice to see people again and talk to others again and be involved with different things again. The last six months have definitely been tough.
Seems like Josh is working to shed his bad boy image. In addition to being at this charity event, his Instagram is mostly photos of him with puppies, children, his family and most recently at an ESP (Extra Special Person, a non-profit that helps people with disabilities) event.
Also, his twitter bio says, "more LOVE less hate." He seems nice to me!
When I asked him about his involvement with Girl Up, he was very supportive of the non-profit,
I was just told that the UN sponsors it. It empowers women, and I love that. I love charities in general, and I love women. I'm missing one important one in my life, but I think one of these days, I'll find her.
Um... she's interviewing you, Josh.
I'll admit at first, I was not a fan of the "emotionally abusive" Josh. The twins warned Amanda about him in "Paradise" and now, he's fresh off his second failed engagement…
But in person, he's super charismatic, funny and smells great. I think he may have just fallen victim to a bad edit, much like Olivia in Ben's season.
Poor Olivia. She was just a socially awkward introvert who was made to look like an insane person.
When I labeled Nick as Josh's  "former competition," Josh joked back,
Well, I wouldn't really call him competition. I'm just kidding. Having a sense of humor isn't really good for interviews.
I mean, it's true, Josh. You did win.
So, what's it like dating on a show where people compete for the love of an "eligible" "bachelor" who has some fake-sounding job like "former account executive" on national television?
Props to Corinne's dad for calling out Nick for not having a real job.
But then again, does "running a multi-million-dollar company," which we all know her dad owns while living with her parents and a nanny, count as a real job?
Not to mention, "The Bachelor" franchise couple success rate is low, too. It turns out only 17 percent of couples make it.
Josh, being in the majority who didn't (twice), had some insight on why that might be,
The one thing that's tough about the show is you get to know someone right then and there when the cameras are on. But you really got to know them in real life as well, outside in the day to day grind of life and everything that it entails. And that's a very important thing, and I learned that twice and going on and getting engaged twice, too. You really have to live with somebody and be with them to see if it's going to work out.
This is true with IRL dating, too. Statistics report that 60 percent of couples who live with each other will not go on to get married. And that's without the rose ceremonies.
So, does Josh think it will work out for Nick?
Josh added,
I wish him nothing but the best. Seriously, it's been his fourth time around, and hopefully he finds somebody and not just finds somebody. You can find somebody, but hopefully it works out in the long run. So, we'll see.
We will see on Monday…
As for the success of the GIRL UP event, Didi Wong, co-founder of Social Spotlight Events, said,
I was delighted to see so many elite social media influencers and brands gathered at the beautiful Penthouse of The London Hotel.  Even in the midst of a storm we managed to hit our goal of over half a billion in reach in attendance!  They came because they cared for the UN Foundation GIRL UP and could be heard asking when the next event was before this one was even finished.