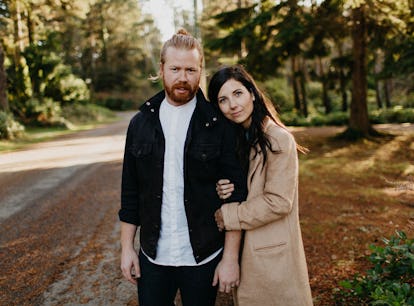 Yes, You Can Truly Love Someone Who's Not "The One" — Here's How
Nine women share their stories.
Based on what we've seen in movies and read in all of our favorite romance novels, love stories are always supposed to follow a certain narrative. Two people meet each other and have this seemingly instantaneous connection. A spark, if you will. From there, the couple falls totally in love and never once questions whether or not the other person is "the one" for them. But, alas, real life is different from what we see in movies and read in books. Sometimes you know your partner is not "the one," but you love them anyway. And, unfortunately, there's no movie you can turn to when you want someone to relate to that unique experience.
What do you do when, for one reason or another, you know your partner isn't the person you want to spend the rest of your life with, but by the same token, you still love them and enjoy your relationship as it is? How are you supposed to cope with that? If you find yourself saying "they're's not the one but I love them," luckily a recent Reddit AskWomen thread asked ladies for their advice on the matter and I have their best responses here for you.
If you also find yourself asking "I love him but I know he's not right for me," or "I love him but he's not the one," George Kong, founder of dating consultancy byGeorge, would ask you to think about why — to really look at why you're with this person in the first place. "I would say first examine what gives you that opinion," he says. "Why don't you want to marry them? Is marriage something you want? And then what? Do you subconsciously know you're in an unhealthy relationship, or are you stuck with some unnecessary expectations from your upbringing of who you should be marrying?"
For Kong, the idea of 'the one' isn't really one that holds any water. "Love can come in many forms," Kong says. "While many people desire and expect a single main love, we have capacity for many loving relationships in our lives. The concept of 'the one' forces some kind of a ranking system that's really unnecessary." You ultimately have to make a decision about what values are most important to you at that time: if your partner has those values, great! If not, it's probably time to move on. And it can be painful, but it will ultimately be necessary for moving forward and finding what you do want.
Still feeling confused about your relationship? Let me put it like this: As long as you're not staying together out of fear you'll never find anyone better, you're fine. Listen to your gut! It knows all.
Expert:
George Kong, dating consultant at byGeorge
This article was originally published on