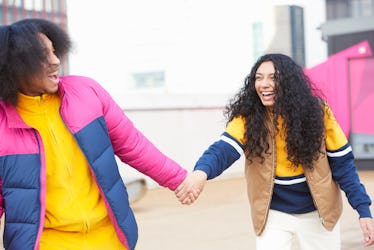 Anyone Can Be "The One," So Experts Say Stop Stressing
The idea that there is one single person on Earth who's considered your soulmate is like asking all of mankind to look for a needle in a haystack. It's so much pressure to put on the heart, and that can make both dating and enjoying singledom way more strenuous. How's anyone meant to relax if everyone's busy finding their "one" person; their one needle in the haystack? Nevertheless, it's romantic. Pop culture lifts up the concept of a "soulmate" at every twist and turn. But, can multiple people be "the one"? And if so, how can people who date remember to keep that in mind and just enjoy the process?
The concept of "the one" means that there's "one person who fits perfectly into their partner's life," Sonya Schwartz, relationship expert and owner of Her Aspiration, tells Elite Daily. "The one" is someone with whom you share "common interests and ideals, someone with whom sex is great, and who can satisfy most of your dreams." If that's the case, then finding "the one" is really just about partnering with someone you are highly compatible with, and perhaps not about finding your one needle in the haystack. Here's what relationship experts had to say about finding your sole soulmate, and where you should really focus your energy.