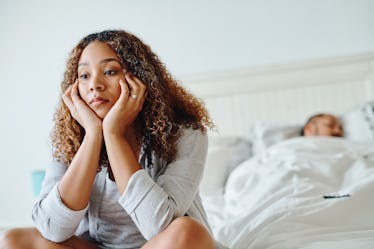 Here's How To Talk To Your Partner If You're Not Having Sex, But Want To Be
The end goal is that you're both happy with your sex life.
katleho Seisa/E+/Getty Images
Sex might not be everything in a relationship, but for many people, it's an important part. So what happens when you're in a relationship but not having sex, because your partner stops wanting it? While that can be challenging to work through, it actually happens more than you might think, and knowing how to talk to your partner about lack of intimacy is an important skill to learn.
Candice Smith, co-founder of Two to Tango and couples intimacy coach specializing in sexlessness — which is generally defined as when the lack of sex is a problem for at least one person in a relationship — stresses first and foremost that if this is happening to you, you are not alone. In fact, 19% of couples in a 2018 U.S. General Social Survey reported being sexless, defined as having sex one or twice or having no sex within the past year. Smith adds some good news, though: "It is possible to reverse those patterns with intentional communication and action."
There are plenty of reasons for a lack of sex in a relationship, and everyone's sex drive and interest level is different. "A partner may stop wanting to have sex for a variety of reasons," clinical psychologist Dr. Carly Marie Manly previously told Elite Daily. "Sometimes it's one key issue at work, whereas in other situations a combination of factors contribute to the lack of interest in having sex. Some of the most common underlying issues include work stress, life stressors, physical exhaustion, mental fatigue, emotional exhaustion, physical health issues, unresolved relationship concerns, and emotional or physical infidelity."
There's no ideal amount of sex any one person or couple should be having, and the end goal is that partners communicate so that they are both happy with their sex life. However, if you or your partner are unhappy with the lack of sex you're having, there are some solutions. The key to breaking out of these patterns in "sexual avoidance," says Smith, is communication — even when it can feel really fraught and awkward to do so.
"If you are caught in this pattern, I don't blame you for feeling stressed about the conversation," Smith says, but adds that the sooner you address it, the better. "The more anxiety mounts, the less likely it is for partners to talk openly about it." Here's how she suggests you best approach the issue, so that you and your partner can feel good about your sex life and no one feels pressured into doing anything that they're not totally comfortable doing — because that last part is crucial.
Having these kinds of conversations can be challenging because they require a certain level of vulnerability, but that vulnerability has the potential to bring you closer because it's so intimate. If you aren't making any progress or you just need some support, Smith says to reach out and get some professional assistance. "If you continuously find yourself hitting roadblocks, consider reaching out to a professional for support — a sex coach, educator, or therapist who specializes in sexlessness will be able to provide you with communication tools and frameworks to guide the conversation in a more productive and effective way," she concludes. So hang in there, be gentle and compassionate with each other, and work through the issue one way or another, together.
Experts:
Candice Smith, co-founder of Two to Tango and couples intimacy coach
Dr. Carly Marie Manly, clinical psychologist
Dr. Jess O'Reilly, host of the SexWithDrJess podcast
This article was originally published on