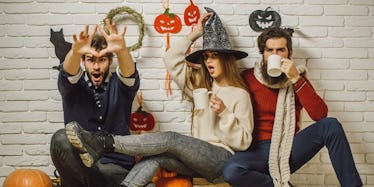 Here's How To Meet Someone You'll Have A Scary Good Time With On Halloween
tverdohlib/Fotolia
Fall is absolutely my favorite time to fall in love. The air is crisp and perfect for holding hands and cuddling. There are so many cute date activities to do, like hay rides, apple picking, corn mazes, trips to the pumpkin patch, and scary haunted house visits. So if you're looking for some inspiration on how to meet someone on Halloween, there are actually tons of ideas. Plus, it's cuffing season, y'all. Summer is over, and people are looking to settle down. The odds are in your favor right about now.
Is it weird that I think Halloween is actually even more romantic than Valentines Day? I mean, being scared with your crush is a great test of your strength as a couple. If your partner can support you through a scary movie, then they can support you through anything. A guy once held my hand while I screamed through a monster-themed escape room, and it was then that I decided he was my soulmate.
So, in my opinion, October is a great time to meet someone. But how do you go about it? Well, here's how to meet someone on Halloween, so you two end up having a scary good time.
1. Make Your Dating App Profile Halloween-Themed
If you want to find a date for Halloween, then why not make your Tinder or Bumble (or other dating app of your choice) profile Halloween-themed? Change your pictures to ones of you in costume, carving a pumpkin, or chowing down on some bite-sized candy. Make your bio something cute and spooky, like "Just a ghoul looking for her boo." Then, wait for the matches to roll in.
2. Make Your Halloween Costume An Ice Breaker
If you're looking to meet someone at a party, then make your costume some sort of ice breaker that will initiate a conversation. Maybe dress up as something confusing, so people will have to ask, "What the hell are you?" all night long. Or you can wear your costume out during the day while running errands. Most likely, someone will come up and talk to you, even if it's out of concern.
3. Go To Halloween-Themed Events
Want to meet fellow Halloween- and fall-minded people? Well, then, go to Halloween-, fall-, and October-themed events. That means bring yourself to outdoor screenings of The Nightmare Before Christmas or, if you have the guts for it, scarier movies that might be showing around your town. You can even dive into the arms of the cutie next to you during the gory parts.
Some other great activities or places to meet people? Apple picking, hay rides, and pumpkin patches. Pumpkin patches could be ripe with hot single dads, too, should that be your thing. (It is extremely my thing.)
4. Ask Out Anyone Who Orders A Pumpkin Spice Latte
A great indicator of a Halloween lover is anyone who orders something pumpkin flavored at Starbucks. So why not hang out at the coffee shop, and start a conversation with anyone who gets a Pumpkin Spice Latte? You can talk about how great fall is, and then, maybe you'll fall in love with each other.
Finding someone during the Halloween season shouldn't be too hard. It is cuffing season, after all. The weather gets cold, the holidays are coming, and everyone is looking for someone to settle down with. So if you're looking for a spooky date for Halloween, don't hesitate to ask someone to be your boo. Most likely, they're looking for the ghoul of their dreams as well.
Check out the entire Gen Why series and other videos on Facebook and the Bustle app across Apple TV, Roku, and Amazon Fire TV.
Check out the "Best of Elite Daily" stream in the Bustle App for more stories just like this!