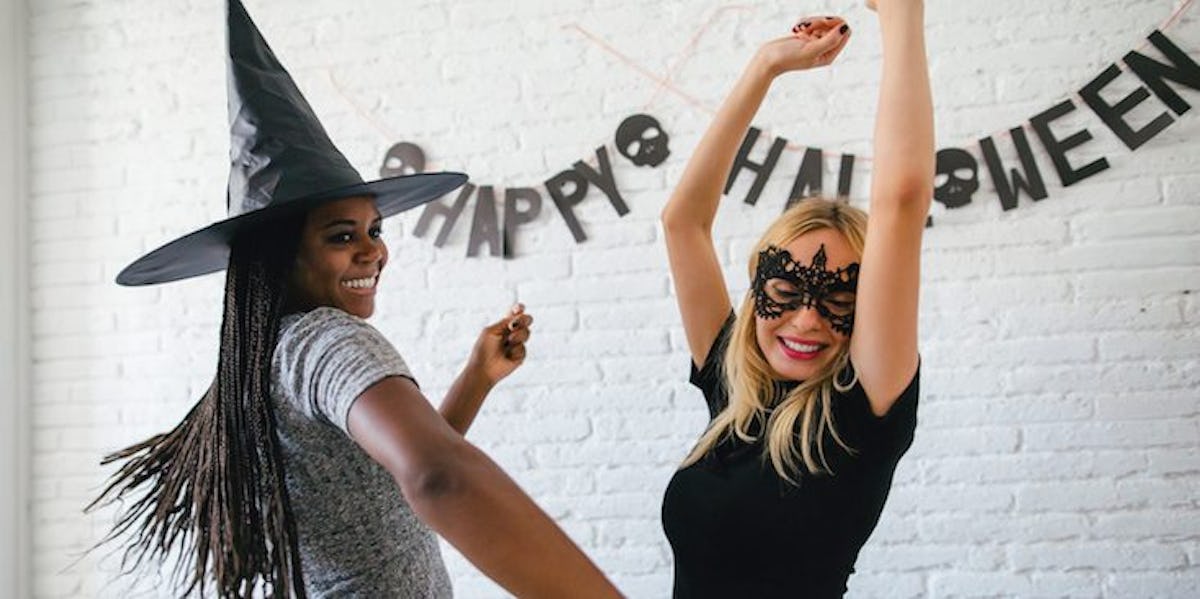 8 Halloween Costumes Under $20 If Your Wallet Just Needs A Break This Year
In college, Halloween becomes more and more of a big deal each and every year it rolls back around -- especially when it comes to your costume. Raise your hand if you have a tendency to spend way too much money on Halloween costumes every single year. All of us? Yeah, I thought so. Even if you attempt to save money, the truth is that if you're trying to avoid DIY-ing your costume, it's probably going to be pretty expensive. If you're looking for that iconic character or signature shirt from your favorite celeb, you can almost guarantee it's going to run you at least $50. It seems impossible to find a costume that's affordable, let alone a Halloween costume under $20.
But remember, with the help of the internet, nothing is impossible. The internet is kind of like a lost and found pile: You never really know what you're going to find until you look. But once you do, you can say goodbye to that "Halloween's going to suck because I'm broke AF" attitude. These eight costumes under $20 will get you the look you want at a price your wallet won't hate you for.
1. A Pigeon Head Mask
LUBBER Halloween Costume Pigeon Bird Latex Animal Head Mask, $7.99, Amazon
OK, I can't lie to you, this costume is pretty freaking weird.
But if you happen to be looking for a weird costume, this is definitely the one for you. It's got four stars on Amazon, and it's under $10. What a steal.
2. A Toy Story-Inspired Hat
Disguise Disney Pixar Toy Story Jessie Glam Hat and Bow Set Costume Accessory, $19.23, Amazon
You can never go wrong with a Disney classic.
Write "Andy" on the bottom of your shoes, and you're good to go.
3. A Mermaid Tail Skirt
FEESHOW Women's Mermaid Tail Halloween Costumes Party Shiny Sequins Long Skirt, $15.35, Amazon
I meant it when I said you can't go wrong with Disney, but I especially mean that when it comes to all things related to The Little Mermaid.
Pair this fabulous mermaid skirt with a bralette of your choice, and wear your hair down in soft, wavy tresses. Is the sea calling to you yet?
4. An Inflatable T-Rex Costume
Adults T-REX Inflatable Dinosaur Costume Funny Jurassic Halloween Blowup Outfit, $16.99, Ebay
Want to go all out for under $20? This costume has become insanely popular in just the last year.
You'll be the hit of the party, even if no one can actually recognize you.
5. The Queen Of Snakes
Serpentine Goddess Medusa Greek Adult Women's Halloween Costume, $18.78, Ebay
No, I'm actually not talking about Taylor Swift. I'm talking about the OG snake queen: Medusa.
Get some dollar store snakes to carry around with you, and consider your costume conquered.
6. A Masquerade Look
LUCKSTAR Gothic Style Half-Face Black Lace Mask, $10.99, Amazon
Try partying for Halloween this year as a more mysterious version of yourself.
TBH, this mask is really pretty, and at $10.99, it leaves you with a little less than half of your budget to go to a thrift store and find a cute dress to go with it.
7.  A 1960s Fan Girl
1960S Party Girl Costume Smiffys Groovy Fancy Dress, $17.34, Ebay
Whatever an oldies version of a fan girl was, this is it.
Channel your inner '60s vibes with this black and white number. Add some more drama with big hair and lots of hair spray.
8. Mrs. Incredible
Mrs. Incredible Costume, $19.99, RueLa La
The Incredibles will always have a special place in my heart.
And hey, with the sequel to the original film coming in 2018, this costume is super timely.