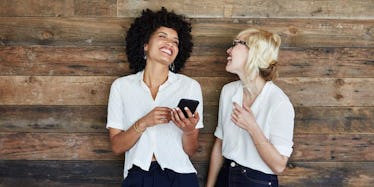 This Is How Much Tinder Gold Costs, Because Nothing In Life Is Free
It is my dream in life to have a dating safety net, in which I only make the first move on people who I am entirely sure are already into me. Such is the intention behind Tinder Gold, Tinder's new rollout (now available to iOS users in the U.S.) that allows you to see who likes you before you even start swiping. This might be the dating lifesaver that we all need and will most likely save me from the excruciating emotional and physical pain of swiping and swiping until I find a match. But... how much does Tinder Gold cost? I'm not Daddy Warbucks over here! I'm no Beyoncé!
Well, right now, Tinder Plus users will be able to upgrade to Tinder Gold for approximately $4.99 a month (phew! affordable), and with it, you'll gain access to the new "Likes You" tab, where you can find all the people who have already swiped right on you, in addition to your already existing matches. Wow, so that means for an extra $5 a month, I can just see a list of people who like me on my phone and talk to them if I want? That sounds *nice.*
Tinder's website explains,
That's why we created Tinder Gold, a members-only service, offering our most exclusive features: Passport, Rewind, Unlimited Likes, five Super Likes per day, one Boost per month, and more profile controls—as well as our new Likes You feature, so that you can see who likes you before you swipe. Think of it as your personal Swipe Right concierge—available 24/7—bringing all of your pending matches to you. Now you can sit back, enjoy a fine cocktail, and browse through profiles at your leisure."
Tinder Gold definitely takes the stress out of dating, and did I mention that subscribing to the service can increase your chances of finding a love match by 60 percent? Anything that increases my chances of finding happiness — or at least a steady hookup during these tumultuous times — sounds great.
So what do you think? For $4.99 a month, are you going to throw down for Tinder Gold? Between Netflix, Hulu, Amazon Prime, HBO Go, Postmates, Uber, Lyft, and those monthly donations to Planned Parenthood, do you have room to incorporate it into your budget? Let me know in the comments.