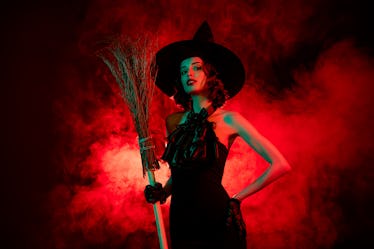 25 Hot And Sexy Halloween Costume Ideas For A Sizzling, Spooky Night
Larysa Vdovychenko/Moment/Getty Images
In my humble opinion, Halloween is the best time of year for countless reasons. Among them is the opportunity to showcase parts of your personality that don't usually take center stage. While I think people should feel free to be their sexiest selves every day of the year, it's undeniably easier to go a little wild on Halloween. Given that the holiday is known for its sexy takes on everyday characters, Halloween is a fun opportunity to get in on the joke and have fun seeing how far you can take it. Sexy PB&J, anyone?
To help you prepare for the sexiest holiday of the year (yes, I think Halloween is hotter than Valentine's Day) here is a list of hot and sexy Halloween costumes for you to try — from ready-to-go styles right out of the box to pieces that require a bit of crafting and creativity. This list includes something for everyone, from classic sexy tropes to pop culture references — even options for folks who just want their "sexy" costume to include a regular comfy T-shirt.
Although Halloween costumes are almost always categorized by gender, ignore those divisions and wear whatever makes you feel sexy. And don't hesitate to gender-flip any of your favorite characters while you're at it.
Whatever costume you choose, remember that Halloween is the best time of year to try out a new look or new persona. So don't hold back — try one of these hot and sexy Halloween costumes and have a memorable night!