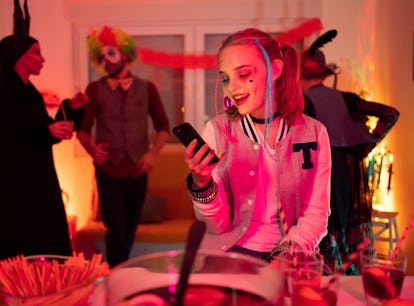 40 Sexy Texts To Send On Halloween Guaranteed To Scare Their Pants Off
For when you're feeling a little wicked 😈
SrdjanPav/E+/Getty Images
Pop quiz! What's the sexiest holiday? If you answered Valentine's Day, then sorry — try again. The sexiest holiday by far is Halloween. I mean, just look at all those costumes! Hotness everywhere. Plus, the fall weather just totally makes you want crawl under the covers and get cozy with your boo, and I think we all know what happens next: Tricks and treats, baby! So, if you're picking up on those sexy holiday vibes, then I say: Don't hold back. Instead, let that special someone know how you're feeling with one of these sexy texts to send on Halloween.
Sure, you could (and should) send your boo messages to keep things spicy year round, but Halloween is the perfect excuse to send them something extra (pumpkin) spicy. Even if you aren't the type to send flirty — or downright dirty — messages the rest of the year, there is just something freeing and primal about the spookiest season. So, go ahead. Embrace it by sending them a happy holiday message they will never forget.
If you need a little help getting started, then no worries, I've got you covered with a little hot and spooky inspiration. Here are 25 sext ideas that range from light and flirty to full-on sext monster. So fire up those fingers... it's about to get hot in here.
Get into the Halloween spirit with these steamy texts that are guaranteed to get you out of your costumes and into bed for a night you won't forget. If you're a little shy about what to say, sometimes the best policy is to keep it real and direct — with a little sweet, seasonal spice added, of course. I promise that any of these messages will make for a seriously happy Halloween.
This article was originally published on