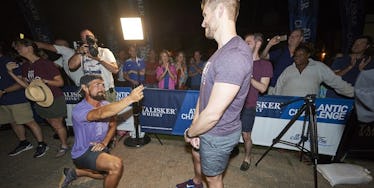 This Guy Rowed 3,000 Miles Across The Ocean To Propose To His BF, And You're Still Single
Ben Duffy/Talisker Whisky Atlantic Challenge
When I get proposed to (you know, the step after I actually find a boyfriend), he better take a page out of David Alviar's book.
The 31-year-old Rice University rowing coach had just completed a 3,000 mile trek across the Atlantic Ocean when he emerged from the boat and dropped to one knee in full-on engagement mode.
Sure, he probably couldn't stand anyway, but his shaky, jello legs were in his favor. Once his feet were securely on land, Alviar whipped out a beautiful ring and popped the question to his adorable-looking boyfriend, Stanley Lewis (aka the luckiest man in the world).
So casual, I know.
I mean, is this not picture perfection?
Someone tell me: Can Alviar be cloned and can that clone be express mailed to my apartment?
I can barely get a guy on Grindr to walk three short blocks to my apartment, let alone row thousands of miles with the intention of being my lawfully wedded husband upon reaching the destination. But I'll stop being bitter.
Lewis was patiently awaiting alongside family and friends for the return of Alviar, who was one of a three-man crew out to complete a row from the Canary Islands off the coast of North Africa to Antigua.
The men had been in the middle of the ocean for over a month, set to become the first Texans to complete said journey across the Atlantic. (A shirtless flare celebration seemed mandatory, in my opinion.)
I'm not sure how Alviar managed to keep himself focused, as he continued to row with an engagement ring burning a hole in his pocket throughout the entirety of their excursion.
Stanley had no idea of his boyfriend's proposal plan, which made the moment that much more exciting.
As Alviar approached him off the Antigua dock, the first thing he did was ask Stanley to marry him.
"The race ended in the best way possible; I proposed to Stanley Lewis, fellow Texas Crew rower, and 10-year long friend," Alviar said post-proposal. "Texas Crew fueled me in that, and that's an understatement. If it weren't for my coaches — Jeff, Bob, Falesha, especially — I never would have wanted to do it, been capable of doing it, or enjoyed doing it."
If you couldn't already guess, he responded with a resounding "yes," putting all other gay couples to shame with just about the cutest proposal I've ever seen.
I'm not too mad with this precedent, though. Take note future husband. I will stand for nothing less.
Citations: GAY ROWER PROPOSES TO HIS BOYFRIEND AFTER ROWING ACROSS THE ATLANTIC OCEAN (Attitude), Murderous row: Texans brave rogue waves, flying fish, fatigue in record-setting journey o'er the sea (Dallas News)